Primer Study Guide Now A 350+ Page Intro To Politics, Philosophy, and Economics (PPE)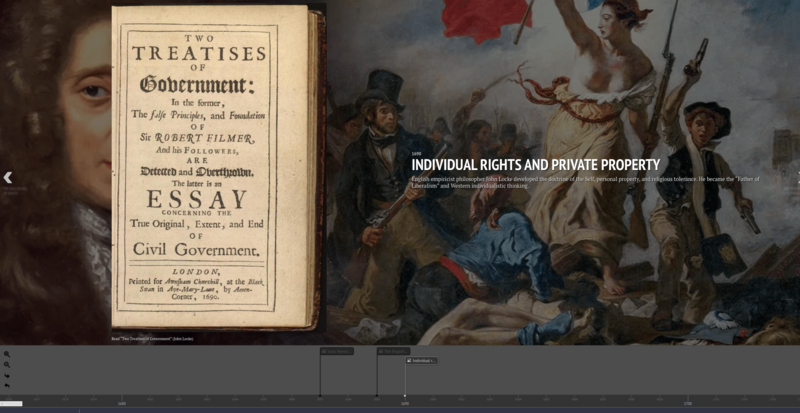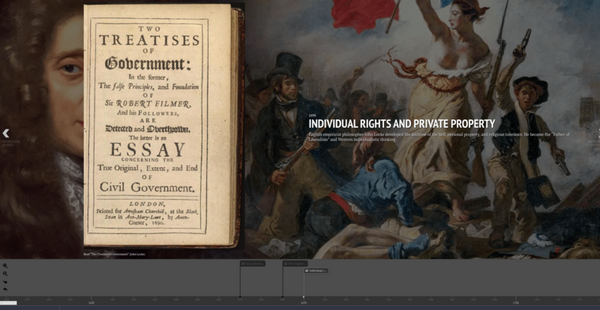 Three years ago, before Covid, in late 2019, this site hosted a simplistic timeline presentation which attempted to help ordinary non-academic people understand what had gone so wrong in our universities and institutions. It turned out to be quite popular. But it needed an update.
Use the link from the top menu: https://primer.devilslane.com
Not everyone took a political science degree, and many schools are so hopelessly politicised they don't even include the Holodomor or the Khmer Rouge. The goal of the presentation is to get anyone, regardless of their background, up to speed, fast; to make a genius out of someone in a day, who can engage in a serious political discussion with an informed mind. It's a primer to more sophisticated debating in the areas of politics, philosophy, and economics.
It's also to put our lives in context; to understand where in time, space, and history we exist; in true Heidegger style.
The original 24-slide presentation covered Jean-Jacques Rousseau, Adam Smith, Marx, Freud, the Frankfurt School, Marcuse, Sokal, social media, Butler etc. The new version has been expanded to cover from Newton to 2024, using 357 slides.
A History of the Modern World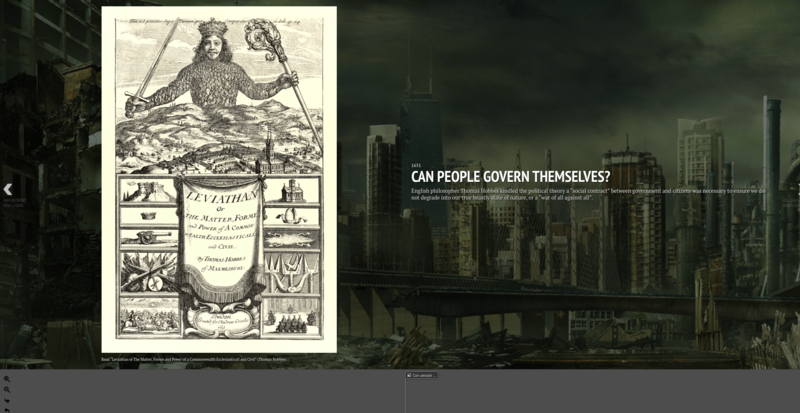 At Oxford, the kind of subjects covered here form the basics of the PPE, or Politics, Philosophy, Economics. Almost every Prime Minister or Member of Parliament has taken it. It was created to replace study in the classics.
To understand postmodernity (1945 - now), you need to understand modernity (17th century - WWII). Britain created the modern world out of its civil war. The first Bill of Rights was parallel to the Bank of England, for example.
The Primer guide does not cover all the obvious things you already know from being taught them in school. It adds the things nobody told you.
Each slide represents an interesting, pivotal moment in history where something originated, or something older was transformed. One minute per slide means six hours of reading. It's a formidable time commitment.
You can think of each slide as a "bookmark" of history to research further in your own time. Some of what you will learn could send you spinning for a few days.
Full link:  https://primer.devilslane.com
Interesting Takeaway Snippets from History
Did you know, as you will soon, that...
The fighting between Britain and Russia traces back to the Great Game?
Almost all strange cults in the US trace back to Mesmer's "animal magnetism"?
Marx wrote his "confession of faith" manifesto around the same time as public toilets were invented?
The welfare state was invented by the same man who hosted the conference which carved up Africa?
Filmmakers in the US are based in LA because they were pirates avoiding patent fees?
Americans became fascinated with UFOs a few years after 1,600 Nazi rocket scientists were evacuated to the US?
Che Guevara murdered over 250 people and publicly stated he enjoyed killing?
A large percentage of French intellectuals were predatory sex offenders?
Xerox demonstrated the "windows"-style graphics of computing with a mouse 5 years before Apple or Microsoft?
History is important as it explains what we believe, and why. Moreover, when we started believing it. It's a list of our mistakes.
Further Reading List in Full
Every slide comes with a suggested book or reference to read more about it. The full list of recommended reading is below.
"Leviathan or The Matter, Forme and Power of a Commonwealth Ecclesiasticall and Civil" (Thomas Hobbes)
"The Bank of England: A History" (Forrest Capie)
"Philosophiæ Naturalis Principia Mathematica" (Issac Newton)
"Bill Of Rights: An Act declareing the Rights and Liberties of the Subject and Setleing the Succession of the Crowne (1689)" (Parliament)
"Two Treatises of Government" (John Locke)
"The Anarchy: The East India Company, Corporate Violence, and the Pillage of an Empire" (William Dalrymple)
"The Republic of Pirates: Being the True and Surprising Story of the Caribbean Pirates and the Man Who Brought Them Down" (Colin Woodard)
"The Social Contract" (Jean-Jacques Rousseau)
"The Industrial Revolution: A Very Short Introduction" (Robert C. Allen)
"Mémoire sur la découverte du magnétisme animal" (Franz Mesmer)
"The Wealth of Nations" (Adam Smith)
"Perfectibilists: The 18th Century Bavarian Order of the Illuminati" (Terry Melanson)
"Reflections on the Revolution in France" (Edmund Burke)
"The Black Jacobins: Toussaint L'Ouverture and the San Domingo Revolution" (C.L.R. James)
"The Panopticon Writings" (Jeremy Bentham)
"A Vindication of the Rights of Woman" (Mary Wollstonecraft)
"The Terror: The Merciless War for Freedom in Revolutionary France" (David Andress)
"Inquiry into the Variolae vaccinae known as the Cow Pox" (Edward Jenner)
"An Essay on the Principle of Population" (TR Mathus)
"The Phenomenology of Spirit"(G.W.F. Hegel)
"The National Society and the Church of England: A Historical and Ethnographic Study" (Sarah Taunton)
"Kinder- und Hausmärchen (lit. Children's and Household Tales)" (Jacob and Wilhelm Grimm)"
"Robert Stephenson and the Eminent Victorians" (Michael Bailey.)
"The Congress of Vienna: A Study in Allied Unity: 1812-1822" (Harold Nicolson)
"Frankenstein; or, The Modern Prometheus" (Mary Shelley)
"The Vampyre" (John William Polidori)
"A History of the Free Trade Struggle in England" (M.M Trumbell)
"The Great British Bobby: A History of British Policing from the 18th Century to the Present" (Clive Emsley)
"The Great Game: The Struggle for Empire in Central Asia" (Peter Hopkirk)
"Slavery: A World History" (Milton Meltzer)
"Law of Attraction" (Prentice Mulford)
"Wealth and Power: China's Long March to the Twenty-first Century" (Orville Schell)
"The Doctors' Plague: Germs, Childbed Fever, and the Strange Story of Ignac Semmelweis" (Sherwin Nuland)
"The Liberian Journey: African American Leadership and the American Colonization Society" (James T. Campbell)
"The Butchering Art: Joseph Lister's Quest to Transform the Grisly World of Victorian Medicine" (Lindsey Fitzharris)
"The Heretic's Feast: A History of Vegetarianism" (Colin Spencer)
"Talking to the Dead: Kate and Maggie Fox and the Rise of Spiritualism" (Barbara Weisberg)
"The Communist Manifesto" (Karl Marx, Friedrich Engels)
"The Big Necessity: The Unmentionable World of Human Waste and Why It Matters" (Rose George)
"On the influence of Suggestion in Modifying and directing Muscular Movement, independently of Volition" (William Benjamin Carpenter)
"Pasteur's Gambit: Louis Pasteur, the Australasian Rabbit Plague and a Ten Million Dollar Prize" (Stephen Dando-Collins)
"Fingerprints: The Origins of Crime Detection and the Murder Case That Launched Forensic Science" (Colin Beavan)
"On the Origin of Species" (Charles Darwin)
"On Liberty" (John Stuart Mill)
"The Weather Experiment: The Pioneers Who Sought to See the Future" (Peter Moore)
"Mafia: A History of Its Rise to Power" (Gaia Servadio)
"The Disappearing Spoon: And Other True Tales of Madness, Love, and the History of the World from the Periodic Table of the Elements" (Sam Kean)
"Das Kapital" (Karl Marx)
"Gay Berlin: Birthplace of a Modern Identity" (Robert Beachy)
"The Suez Canal: Its History and Diplomatic Importance" (J.B. Kelly)
"The Second Industrial Revolution, 1870-1914" (Ryan Engelman)
"The Secret Doctrine, the Synthesis of Science, Religion and Philosophy" (Helena Blavatsky)
"The Telephone Gambit: Chasing Alexander Graham Bell's Secret" (Seth Shulman)
"What is the Fourth Dimension?" (Charles Howard Hinton)
"The Society for Psychical Research: An Outline of Its History" (Renée Haynes)
"Origins of the German Welfare State: Social Policy in Germany to 1945" (Michael Stolleis)
"History of the Fabian Society The Origins of English Socialism" (Edward R. Pease)
"King Leopold's Ghost: A Story of Greed, Terror, and Heroism in Colonial Africa" (Adam Hochschild)
"A Study in Scarlet" (Arthur Conan Doyle)
"The Devil in the White City" (Erik Larson)
"The Invisible Enemy: A Natural History of Viruses" (orothy Crawford)
"The Splendid Little War" (Frank Freidel)
"History of the Fabian Society The Origins of English Socialism" (Edward R. Pease)
"The Time Machine" (H.G. Wells)
"The Protocols of the Elders of Zion"
"Suffragettes: The Fight for Votes for Women" (Joyce Marlow)
"The Book of the Law" (Aleister Crowley)
"Eugenics: The Lost Science" (Elof Axel Carlson)
"The Secret Service: The Making of the British Intelligence Community" (Richard Deacon)
"The Star Machine" (eanine Basinger)
"The Genius of the System: Hollywood Filmmaking in the Studio Era" (Thomas Schatz)
"The Creature from Jekyll Island: A Second Look at the Federal Reserve" (G. Edward Griffin)
"The Path Between the Seas" (David McCullough)
"Course in General Linguistics" (Ferdinand de Saussure)
"The Gulag Archipelago" (Aleksandr Solzhenitsyn)
"The Russian Effort to Abolish Marriage" (The Atlantic)
"History and Class Consciousness" (György Lukács)
"Magnus Hirschfield and the Quest for Sexual Freedom" (Elena Mancini)
"World Revolution, 1917-1936: The Rise and Fall of the Communist International" (C.L.R. James)
"Empire: How Britain Made the Modern World" (Niall Ferguson)
"Grand Hotel Abyss: The Lives of the Frankfurt School" (Stuart Jeffries)
"Public Opinion" (Walter Lippmann)
"The Discovery of the Tomb of Tutankhamun" (Howard Carter)
"The New Soviet Man and Woman: Sex-Role Socialization in the USSR" (Cynthia S. Kaplan)
"The Prison Notebooks" (Antonio Gramsci)
"Mein Kampf" (Adolf Hitler)
"Being and Time" (Martin Heidegger)
"The Mold in Dr. Florey's Coat: The Story of the Penicillin Miracle" (Eric Lax)
"On the Theory of Games of Strategy" (John von Neumann)
"Coming of Age in Samoa: A Psychological Study of Primitive Youth for Western Civilisation" (Margaret Mead)
"The Engineering of Consent" (Edward Bernays)
"The Magic Island" (W.B. Seabrook)
"The Emergence of Life: From Chemical Origins to Synthetic Biology" (Pier Luigi Luisi)
"The Great Crash 1929" (John Kenneth Galbraith)
"The Harvest of Sorrow: Soviet Collectivization and the Terror-Famine" (Robert Conquest)
"Civilisation and Its Discontents" (Sigmund Freud)
"The History of the Recorded Music Industry: Volume One, 1890-1943" (Allan Sutton)
"The Tampon: A History" (Elizabeth Arveda Kissling)
"Brave New World" (Aldous Huxley)
"Labour and the Gulag: Russia and the Seduction of the British Left" (Giles Udy)
"Mr Jones" (2019)
"Bad Blood: The Tuskegee Syphilis Experiment (James H. Jones)
"Theories of the Mixed Economy" (David Reisner)
"The Fellowship: The Literary Lives of the Inklings" (Philip Zaleski , Carol Zaleski)
"The Open Society and Its Enemies" (1945)
"Lysenko and the Tragedy of Soviet Science" (Valery N. Soyfer)
"Racism" (Magnus Hirschfield)
"Medical Aspects of Chemical and Biological Warfare," (US Army)
"The Great Terror: A Reassessment" (Robert Conquest)
"Traditional and Critical Theory" (Max Horkheimer)
"The Diamond Empire: The History of the World's Greatest Cartel" (Edward Jay Epstein)
"The Official History of the Special Operations Executive 1940-1946" (M.R.D. Foot)
"The Horten Flying Wing in World War II: The History and Development of the Ho 229" (Simonsen, Myhra, and Spreen)
"Mein Kampf" (Adolf Hitler)
"Human Diversity: The Biology of Gender, Race, and Class" (Charles Murray)
"The Complete Dead Sea Scrolls in English" (Geza Vermes)
"Operation Paperclip: The Secret Intelligence Program that Brought Nazi Scientists to America" (Annie Jacobson)
"Freedom at Midnight" (Dominique Lapierre, Larry Collins)
"Alfred C. Kinsey: A Public/Private Life" (James H. Jones)
"The Universal Declaration of Human Rights: Origins, Drafting, and Intent" (Johannes Morsink)
"The Iron Wall: Israel and the Arab World" (Avi Shlaim)
"The Barnum Effect: The Psychology of the Gullible" (Barry Singer)
"The Birth of the People's Republic of China" (Keith Schoppa)
"The Second Sex" (Simone de Beauvoir
"The History of Malware" (Peter Szor )
"The Credit Card Industry: A History" (Lewis Mandell)
"The Coldest Winter: America and the Korean War" (David Halberstam)
"Brighter than a Thousand Suns: A Personal History of the Atomic Scientists" (Robert Jungk)
"Too Secret Too Long" (Chapman Pincher)
"The Rolling Stone Illustrated History of Rock & Roll: The Definitive History of the Most Important Artists and Their Music" (Anthony DeCurtis. James Henke)
"BOAC: An Illustrated History" (Charles Woodley)
"As Nature Made Him: The Boy Who Was Raised as a Girl" (John Colapinto)
"The Report on Unidentified Flying Objects" (Edward J. Ruppelt)
"Televangelism and American Culture: The Business of Popular Religion" (Quentin J. Schultze)
"The Double Helix: A Personal Account of the Discovery of the Structure of DNA" (James Watson)
"Poisoner in Chief: Sidney Gottlieb and the CIA Search for Mind Control" (Stephen Kinzer)
"School of Darkness" (Bella V Dodd)
"In Search of a Bigger Boom" (Alex Wellerstein)
"A History of Organ Transplantation: Ancient Legends to Modern Practice" (David Hamilton)
"Eros and Civilisation" (Herbert Marcuse)
"Artificial Intelligence: A Modern Approach" (Stuart Russell, Peter Norvig)
"Suez Crisis 1956: End of Empire and the Reshaping of the Middle East" (David Charlwood)
"The Campaign for Nuclear Disarmament: Anglo-American Peace Movements in the Early Cold War" (Lawrence S. Wittner.)
"Sputnik and the Origins of the Space Age" (David J. Shayler)
"Laser: The Inventor, the Noble Laureate, and the Thirty-Year Patent War" (Nick Taylor)
"Virtual Reality: The Revolutionary Technology of Computer-Generated Artificial Worlds - and How It Promises to Transform Society" (Howard Rheingold)
"The Physics of Stargates: Parallel Universes, Time Travel, and the Enigma of Wormhole Physics" (Enrico Rodrigo)
"The Great Famine and the Chinese State, 1957-1962" (Thomas H. Lovell)
"Color, Communism, and Common Sense - A True Story" (Manning Johnson)
"Against All Hope: A Memoir of Life in Castro's Gulag" (Armando Valladares)
Criminal Code, Federal Ministry of Justice, Germany, para. 130 sec. 1
"This Is Your Brain on Birth Control: The Surprising Science of Women, Hormones, and the Law of Unintended Consequences" (Sarah Hill)
"First Man in Space: Yuri Gagarin" (John Rhea)
"Rolleston Report Departmental Committee on Morphine and Heroin Addiction" (Ministry of Health)
"Executive Order 10925—Establishing the President's Committee on Equal Employment Opportunity" (John F. Kennedy)
"The Terraforming Handbook: A Guide to Making Life Possible on Other Planets" (Martyn J. Fogg)
"The Wretched of the Earth" (Frantz Fanon).
"Population Density and Social Pathology" (John B. Calhoun)
"The Neutron Bomb: A Political History" (Andrew Cockburn)
"The Prospect of Immortality" (Robert Ettinger)
"The Upstart Spring: Esalen and the Human Potential Movement : the First Twenty Years" (Walter Truett Anderson)
"The Feminine Mystique" (Betty Friedan)
"The Sundered Worlds" (Michael Moorcock)
"Mass Hysteria in Schools: A Worldwide History Since 1566" (Robert E. Bartholomew)
"Civil Rights, Culture Wars: The Fight over a Mississippi Textbook" (Charles W. Eagles)
"Sunset Boulevard: America's Dream Street" (J.W. "Bill" Jackson)
"When Abortion Was a Crime: Women, Medicine, and Law in the United States, 1867-1973" (Leslie J. Reagan)
"A Revolution Betrayed: How Egalitarians Wrecked the British Education System" (Peter Hitchens)
"One Dimensional Man", "Repressive Tolerance", and "An Essay on Liberation" (Herbert Marcuse)
"Wild Swans" (Jung Chang)
"Earth from Above" (Yann Arthus-Bertrand)
"Of Grammatology" (Jacques Derrida)
"Fat Power: Whatever You Weigh Is Right" (Llewelyn Louderback
"Might Is Right or The Survival of the Fittest" (Ragnar Redbeard)
"Chariots of the Gods? Unsolved Mysteries of the Past" (Erich von Däniken)
"Pedagogy of the Oppressed" (Paolo Friere)
"The Population Bomb" (Paul R. Ehrlich)
"The Biological Time Bomb" (Gordon Rattray Taylor)
"Primary Perception: Biocommunication with Plants, Foods, and Human Cells" (Cleve Backster)
"The Gay Liberation Movement: Before and After Stonewall (The History of the LGBTQ + Rights Movement)" (Sean Heather K. McGraw)
"Society and the Healthy Homosexual" (George Weinberg)
"A History of Pornography" (H Montgomery Hyde)
"The German Experiment That Placed Foster Children with Pedophiles" (The New Yorker)
"UNIX: A History and a Memoir" (Brian Kernighan)
"Sexual Politics" (Kate Millett)
"Disruptive, Dangerous, and Deviant: The Paladins of Publishing" (Thomas J. Kilton)
"Discipline and Punish" (Michel Foucault)
"Money, Markets, and Sovereignty" (Benn Steil, Manuel Hinds)
"Cohabitation: Law, Practice and Precedents" (Denzil Lush)
"Toward a liquid hydrogen fuel economy" (Lawrence W. Jones)
"Fear and Loathing: The Strange and Terrible Saga of Hunter S. Thompson" (Paul Perry)
"All For Australia" (Geoffrey Blainey)
"Rules For Radicals: A Pragmatic Primer for Realistic Radicals" (Saul D. Alinsky)
"The Pentagon Papers: The Defense Department History of United States Decisionmaking on Vietnam." (Senator Gravel)
"A Theory of Justice" (John Rawls)
"The Way the Wind Blew: A History of the Weather Underground" (Ron Jacobs)
"The Ages of Gaia: A Biography of Our Living Earth" (James Lovelock )
"The Ultimate History of Video Games" (Steven L. Kent)
"The Troubles: Ireland's Ordeal 1966-1996 and the Search for Peace'" (Tim Pat Coogan)
""Behind the scenes of Westworld" (American Cinematographer)
"Dobbs v. Jackson Women's Health Organization, No. 19-1392, 597 U.S. ___ (2022),"
"The Condor Years: How Pinochet and His Allies Brought Terrorism to Three Continents'" (John Dinges)
"Anti-Fascism in Britain" (Nigel Copsey)
"Paedophilia - The Radical Case" (Tom O'Carroll)
"Climatic Change: Are We on the Brink of a Pronounced Global Warming?" (Wallace Broecker)
"The Economic Consequences of the Peace" (John Maynard Keynes)
"First They Killed My Father: A Daughter of Cambodia Remembers" (Loung Ung)
"Animal Liberation: A New Ethics for Our Treatment of Animals" (Peter Singer)
"Viking 1 and 2: NASA Mars Landers" (Christopher Riley, Philip Dolling)
"Modern Enterprise Management in Mechanical Engineering" (Klaus Schwab)
"The Age(s) of Consent: Gay Activism and the Sexuality of Minors in France and Quebec (1970-1980)" (Jean Bérard, Nicolas Sallée)
"Deng Xiaoping and the Transformation of China" (Ezra Vogel)
"Orientalism" (Edward Said)
"Revolutionary Iran: A History of the Islamic Republic" (Michael Axworthy)
"The Pursuit of Parenthood: A History of IVF" (Margaret Marsh, Wanda Ronner)
"The Cellphone: The History and Technology of the Gadget That Changed the World" (Guy Klemens)
"Ghost Wars: The Secret History of the CIA, Afghanistan, and Bin Laden, from the Soviet Invasion to September 10, 2001" (Steve Coll)
"A People's History of the United States" (Howard Zinn)
"China's Hidden Children: Abandonment, Adoption, and the Human Costs of the One-Child Policy" (Kay Ann Johnson)
"Dealers of Lightning: Xerox PARC and the Dawn of the Computer Age" (Michael A. Hiltzik)
"The Epidemic: A Global History of AIDS" (Jonathan Engel)
"Simulacres et Simulation" (Jean Baudrillard)
"The Law of Attraction" (Helena Blavatsky, 1877)
"The Holy Blood and the Holy Grail " (Michael Baigent, Richard Leigh, and Henry Lincoln)
"The Decline and Fall of the British Empire, 1781-1997" (Piers Brendon)
"Shopping for Bombs: Nuclear Proliferation, Global Insecurity, and the Rise and Fall of the A.Q. Khan Network" (Gordon Corera)
"Project Coast: Apartheid's Chemical and Biological Warfare Programme" (United Nations)
"Soviet Subversion of the Free World Press: a Conversation with Yuri Bezmenov"
"Thinking Sex" by Gayle Rubin
"The Great Rock 'n' Roll Swindle: The Rise and Fall of Ethiopian Communism" (Martin Meredith)
"The Accountant's Story: Inside the Violent World of the Medellín Cartel" (Roberto Escobar)
"The Drugs That Changed Our Minds" (Lauren Slater)
"Columbine" (Dave Cullen)
"Remembering Satan: A Tragic Case of Recovered Memory" (Lawrence Wright)
"Photoshop: A Visual History" (Andrew Kavanagh)
"The Critical Turn in Education: From Marxist Critique to Poststructuralist Feminism to Critical Theories of Race" (Isaac Gottesman)
"Manufacturing Consent: The Political Economy of the Mass Media" (Edward S. Herman, Noam Chomsky)
"White Privilege and Male Privilege: A Personal Account of Coming to See Correspondences Through Work in Women's Studies" (Peggy McIntosh)
People v. Freeman, 250 Cal.Rptr. 589 (Cal. 1988)
"Demarginalizing the Intersection of Race and Sex" (Kimberlé Crenshaw)
"The Last Empire: The Final Days of the Soviet Union" (Serhii Plokhy)
"Cationic liposome-mediated RNA transfection" (R W Malone, P L Felgner, and I M Verma)
"Behind the Glass, Volume II: Top Record Producers Tell How They Craft the Hits" (Howard Massey)
"The Avid Handbook: Advanced Techniques, Strategies, and Survival Information for Avid Editing Systems" (Steve Bayes)
"Changing Lenses–A New Focus for Crime and Justice" (Howard Zehr)
"The Age of Intelligent Machines" (Raymond Kurzweil)
"Information Management: A Proposal" (Tim Berners-Lee)
"Rebel Code: Linux and the Open Source Revolution" (Glyn Moody)
"PGP Source Code and Internals" (Phil Zimmerman)
"Death by Food Pyramid: How Shoddy Science, Sketchy Politics and Shady Special Interests Have Ruined Our Health" (David & Denise Minger)
"Soft Currency Economics' (Warren Mosler)
"The United Nations Framework Convention on Climate Change" (United Nations)
"Twilight: Los Angeles, 1992" (Anna Deavere Smith)
"Discreet Power: How the World Economic Forum Shapes Market Agendas" (Christina Garsten,Adrienne Sörbom)
"How GPS Won Funding: And Survived to Launch a Global Utility" (George E. Pickett)
"Education in the New Age" (Alice A Bailey)
"Whipping Girl: A Transsexual Woman on Sexism and the Scapegoating of Femininity." (Julia Serano)
"The Bell Curve: Intelligence and Class Structure in American Life" (Richard J. Herrnstein, Charles Murray)
"Higher Superstition: The Academic Left and Its Quarrels with Science" (Paul R. Gross, Norman Levitt)
"The Strange Death of Europe: Immigration, Identity, Islam" (Douglas Murray)
"Gender Trouble: Feminism and the Subversion of Identity" (Judith Butler)
"News Is a Verb: Journalism at the End of the Twentieth Century" (Pete Hamill)
"Texas vs. California: A History of Their Struggle for the Future of America" (Kenneth P. Miller)
"The Anatomy of a Large-Scale Hypertextual Web Search Engine" (Sergey Brin, Lawrence Page)
"Islamophobia: A Challenge for Us All" (Commission on British Muslims and Islamophobia)
"Video Rewrite: Driving Visual Speech with Audio" (Christoph Bregler, Michele Covell, Malcolm Slaney)
"Clinton and Blair: The Political Economy of the Third Way" (lavio Romano)
"Human rights inflation in the European Union" (Matej Avbelj)
"Can We Really Measure Implicit Bias? Maybe Not" (Chronicle of Higher Education)
"Hooked: How to Build Habit-Forming Products" (Nir Eyal)
"How Music Got Free: The End of an Industry, the Turn of the Century, and the Patient Zero of Piracy" (Stephen Witt)
"Fashionable Nonsense: Postmodern Intellectuals' Abuse of Science (French: Impostures intellectuelles)" (Alan Sokal and Jean Bricmont)
"The Man Without a Face: The Unlikely Rise of Vladimir Putin" (Masha Gessen)
"Comandante: Hugo Chávez's Venezuela" (Rory Carroll)
"On China" (Henry Kissinger)
"Nonmarital Childbearing in the United States, 1940–99" (National Institute of Health)
"Dot.Con: The Greatest Story Ever Sold" (John Cassidy)
"Equality for Same-Sex Couples: The Legal Recognition of Gay Partnerships in Europe and the United States" (Yuval Merin)
"Fasting Girls: The History of Anorexia Nervosa" (Joan Jacobs Brumberg)
"Democracy: The God That Failed" (Hans-Hermann Hoppe)
"The Future of Assisted Suicide and Euthanasia" (Neil Gorsuch)
"The Blank Slate: The Modern Denial of Human Nature" (Steven Pinker)
"Spotlight Investigation: Abuse in the Catholic Church" (Boston Globe)
"Real Life: The Making of a Television Phenomenon" (Bill Mesce Jr)
"The Genome War: How Craig Venter Tried to Capture the Code of Life and Save the World" (James Shreeve)
"Pedophilia and Sexual Offending Against Children: Theory, Assessment, and Intervention" (Michael C. Seto)
"Drugs 2.0: The Web Revolution That's Changing How the World Gets High" (Mike Power)
"Reflections on the Revolution In Europe: Immigration, Islam, and the West" (Christopher Caldwell)
"The Inside Story of Tor, the Best Internet Anonymity Tool the Government Ever Built" (Bloomberg)
"The Hundred-Year Marathon: China's Secret Strategy to Replace America as the Global Superpower" (Michael Pillsbury)
"The End of Faith: Religion, Terror, and the Future of Reason" (Sam Harris)
"Are You Living in a Computer Simulation?" (Niklas Boström)
"How Technology Hijacks People's Minds – from a Magician and Google's Design Ethicist" (Tristan Harris)
"The Pirate Bay: Away from Keyboard" (Simon Klose)
Watch "Earthllngs" (2005)
"The Dark Enlightenment" (Nick Land)
"Too Big to Fail: The Inside Story of How Wall Street and Washington Fought to Save the Financial System—and Themselves" (Andrew Ross Sorkin)
"An Inconvenient Truth: The Crisis of Global Warming" (Al Gore)
"Nuclear Showdown: North Korea Takes On the World" (Gordon G. Chang)
"Hatching Twitter: A True Story of Money, Power, Friendship and Betrayal" (Nick Bilton)
"The Hacking of the American Mind: The Science Behind the Corporate Takeover of Our Bodies and Brains" (Robert H. Lustig)
"MindGeek: the secretive owner of Pornhub and RedTube" (Financial Times)
"The Shock Doctrine: The Rise of Disaster Capitalism" (Naomi Klein)
"Netflixed: The Epic Battle for America's Eyeballs" (Gina Keating)
"Bitcoin: A Peer-to-Peer Electronic Cash System" (Satoshi Nakamoto)
"Nudge: Improving Decisions About Health, Wealth, and Happiness" (Richard Thaler and Cass Sunstein)
"What's Mine is Yours: The Rise of Collaborative Consumption" (Rachel Botsman, Roo Rogers)
"The Case Against the Sexual Revolution" (Louise Perry)
"The History of White People" (Nell Irvin Painter)
"Instagram: How Kevin Systrom and Mike Krieger Built a Billion-Dollar Business" (Sarah Frier)
"Survivors: One Brave Detective's Battle to Expose the Rochdale Child Abuse Scandal" (Maggie Oliver)
"Silk Road: The Darker Side of the Digital Economy" (Chris Monteiro)
"Digital DIY: The History of Creative Computing and the Rise of Maker Culture" (Helen Thornham, Sarah Kendzior)
"The Legalization of Marijuana in Uruguay: The Politics of Drugs" (Eduardo Blasina, Juan Andrés Palese)
"The Ethical Slut, Third Edition: A Practical Guide to Polyamory, Open Relationships, and Other Freedoms in Sex and Love" (Janet W. Hardy)
"Black Lies Matter: Why Lies Matter to the Race Grievance Industry" (Taleeb Starkes)
"No Place to Hide: Edward Snowden, the NSA, and the U.S. Surveillance State" (Glenn Greenwald)
"Dangerous Gamers: The Commentariat and its war against video games, imagination, and fun" (Xavier Lastra)
"The "Supreme Gentleman" Killer: The True Story of an Incel Mass Murderer" (Brian Whitney)
"Ukraine Crisis: What It Means for the West" (Andrew Wilson)
"Popcorn Time: A Revolutionary Tool in Piracy" (W. K. W. Lai. S. Y. Lam)
"The Xinjiang Conflict: Uyghur Identity, Language Policy, and Political Ecology" (Danielsen, A., & Sabei, J.)
"The Sustainable Development Goals" (United Nations)
"Gender Outlaw: On Men, Women, and the Rest of Us" (Kate Bornstein)
"Algorithms of Oppression: How Search Engines Reinforce Racism" (Safiya Umoja Noble)
"The Great Betrayal: Fraud in Science, Medicine and Sport" (Nick Koumarianos)
"Sharing Your Naked Photos: Lessons from Experiences of Non-Consensual Image Sharing" (Amy Adele Hasinoff)
"The Diversity Delusion: How Race and Gender Pandering Corrupt the University and Undermine Our Culture" (Heather Mac Donald)
"James Obergefell, et al., Petitioners v. Richard Hodges, Director, Ohio Department of Health, et al." (Supreme Court of the United States)
"The True Story of Fake News: How Mainstream Media Manipulates Millions" (Mark Dice)
"Drag pedagogy: The playful practice of queer imagination in early childhood" (Harper Keenan)
"Bill C-16, An Act to amend the Canadian Human Rights Act and the Criminal Code"
"Plastic Waste and Recycling: Environmental Impact, Societal Issues, Prevention, and Solutions" (Trevor M. Letcher)
"Jordan Peterson: A Critical Reader" (John V. Langford, Marc Farrant)
"The New Class War: Saving Democracy from the Metropolitan Elite" (Michael Lind)
"How OnlyFans Changed Sex Work Forever" (New York Times)
"'Disturbing': Experts troubled by Canada's euthanasia laws" (Associated Press)
"Guilt by Accusation: The Challenge of Proving Innocence in the Age of #MeToo" (Alan Dershowitz)
"3 Years Ago, Bret Weinstein Endured The Precursor To Today's Riots" (The Federalist)
"Cynical Theories" (James Lindsay, Helen Pluckrose)
"The New Science of Psychedelics: At the Nexus of Culture, Consciousness, and Spirituality" (David Jay Brown)
"The 1619 Project: A New Origin Story" (Nikole Hannah-Jones)
"What Really Happened In Wuhan: A Virus Like No Other, Countless Infections, Millions of Deaths" (Sharri Markson)
"The New Science of Psychedelics: At the Nexus of Culture, Consciousness, and Spirituality" (James Patterson, John Connolly, and Tim Malloy)
"They're Lying: The Media, The Left, and The Death of George Floyd" (Liz Collin)
"COVID-19: The Great Reset" (Klaus Schwab)
"Architect of Prosperity: Sir John Cowperthwaite and the Making of Hong Kong" (Neil Monnery)
"Irreversible Damage: The Transgender Craze Seducing Our Daughters" (Abigail Shrier)
"Roe v. Wade: The Abortion Rights Controversy in American History" (N. E. H. Hull, Peter Charles Hoffer)
"Trudeau Defends Use of Emergencies Act During Trucker Protest" (New York Times)
"Invasion: The Inside Story of Russia's Bloody War and Ukraine's Fight for Survival" (Luke Harding)
"The Real Anthony Fauci: Bill Gates, Big Pharma, and the Global War on Democracy and Public Health" (Robert F. Kennedy Jr.)
"California Task Force to Study and Develop Reparation Proposals for African Americans INTERIM REPORT" (AB3121 Committee)
"Behind the Scenes of Central Bank Digital Currency: Emerging Trends, Insights, and Policy Lessons" (International Monetary Fund)
"Generative Adversarial Networks" (Ian J. Goodfellow)