Your Real Visitor's Guide To Old, Secret, and Scandalous Historic Hollywood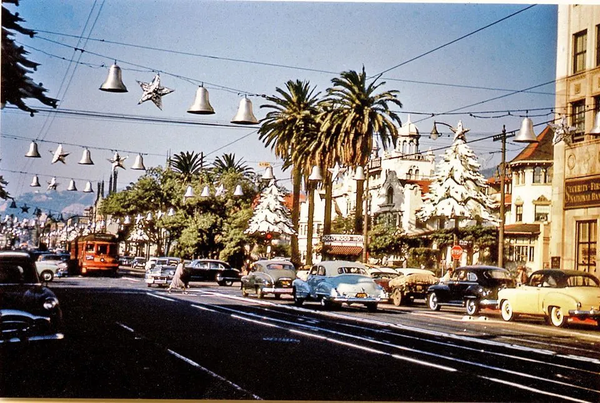 Don't pay for a tour. Forget Disneyland, the Studio tours, Griffith Observatory, Rodeo drive,Walk of Fame, and the museums. Hollywood has a century of the most bizarre, controversial history in the strangest places you probably haven't heard of.
You pay to put your own star on the Walk of Fame. You can see the TCL and Dolby theatres on TV. If you want to do it your way, start with the city's historic monuments: https://en.wikipedia.org/wiki/List_of_Los_Angeles_Historic-Cultural_Monuments_in_Hollywood
You might notice all these places are run round and dated. Yes, that's probably from their only renovation three decades ago. Nobody here really cares about history.
OK, Fine, the Hollywood Sign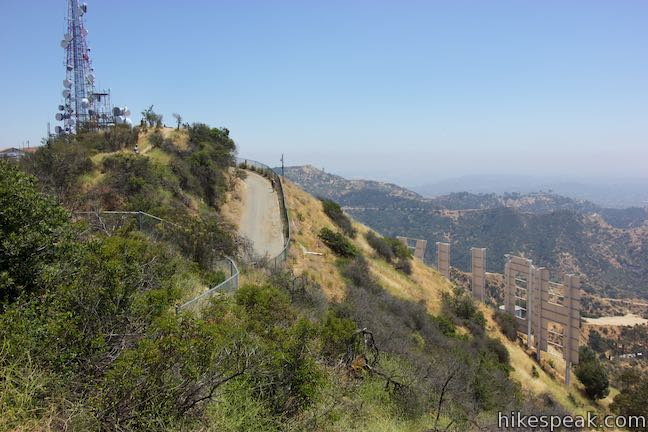 If you have to, try and photograph it from a high-rise on one of the Boulevards (Melrose, Sunset, Hollywood). You can "hike" Mount Lee, but why bother? Otherwise, go to the top of the Home Depot parking lot at 5600 Sunset Boulevard.
It was originally a marketing sign put up in 1923 for the real estate development below, and read "Hollywoodland". A decade later in 1932, 24 year-old British actress Peg Entwistle climbed a workman's ladder to the top of the "H" and killed herself by throwing herself off. Legend has it she received a letter offering her the Big Break the next morning.
If you have small kids, start with a picnic at Lake Hollywood Park (https://goo.gl/maps/u4VBEdDNJrhA81Lb9). You can see the sign above and it's an easy day. You can also take in the reservoir itself (a 3.5 mile walk loop), and the dam it includes. If you have bigger kids, also start here, and walk up the main road (Mulholland Highway) for 10-15 mins. Just past the houses at the end, it intersects with the (closed) gate at the top of Mount Lee Drive (there's a small gate for people which is easy to miss: https://goo.gl/maps/zjwJ8rMwV2ZA8U7D9). It's roughly a 2-mile winding walk to the summit, at a moderate incline; forty minutes or so in a group. It appears worse on the map than it actually is.
Spoiler alert: you can't go near the letters. When you reach the summit (1600ft or so), it's a tiny bump on the top next to a cellphone tower, surrounded entirely by wired fences. It's difficult to get a clear "downward" photo, and drones are banned. Hint: take a telescopic pole or selfie stick to project your camera over the fence.
Sidebar: Runyon Canyon (No-Man's Canyon)
It's not historical Hollywood, but you might want to do it anyway, because OMFG Instagram.
Beloved by "influencers" everywhere, as well as small-dog-carrying yoga women in their thirties, Runyon only really took shape as a public dog park in 1984. There are two roads which look like a "fork", and lead up into the same park entrance:
The trek is a moderate incline with some steeper parts, and takes about 25 minutes from the bottom to the top (north) exit on Mulholland Drive. On your way back down, head the Electric Owl on Sunset for open-roof beverages.
Neither of these nature parks are "hikes", even if they described as such. They're 1-3 mile valleys with tarmac roads which are essentially a walk up a hill.
What The Hell Is Art Deco?
One thing you will notice about Old Hollywood in particular is the most historic places are from the 20s and 30s. It's worth reading up on Art Deco.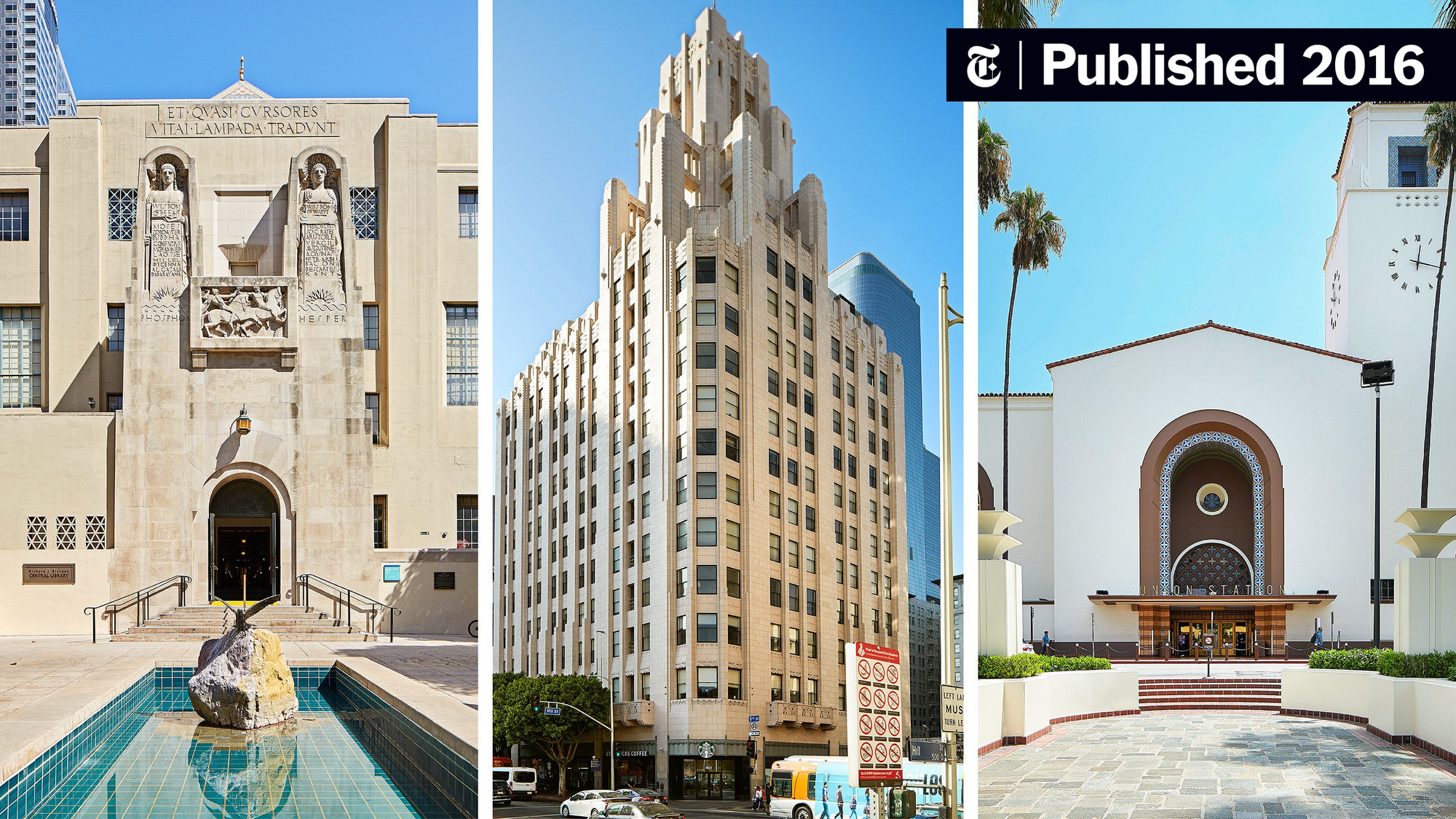 Short version:
A popular design style of the 1920s and 1930s characterized especially by bold outlines, geometric and zigzag forms, and the use of new materials (such as plastic).
From Britannica:
Art Deco, also called style moderne, movement in the decorative arts and architecture that originated in the 1920s and developed into a major style in western Europe and the United States during the 1930s.

Its name was derived from the Exposition Internationale des Arts Décoratifs et Industriels Modernes, held in Paris in 1925, where the style was first exhibited. Art Deco design represented modernism turned into fashion. Its products included both individually crafted luxury items and mass-produced wares, but, in either case, the intention was to create a sleek and anti-traditional elegance that symbolized wealth and sophistication.

The distinguishing features of the style are simple, clean shapes, often with a "streamlined" look; ornament that is geometric or stylized from representational forms; and unusually varied, often expensive materials, which frequently include man-made substances (plastics, especially Bakelite; vita-glass; and ferroconcrete) in addition to natural ones (jade, silver, ivory, obsidian, chrome, and rock crystal).

Though Art Deco objects were rarely mass-produced, the characteristic features of the style reflected admiration for the modernity of the machine and for the inherent design qualities of machine-made objects (e.g., relative simplicity, planarity, symmetry, and unvaried repetition of elements).

More: https://artincontext.org/art-deco/
So, a bunch of French nonsense, then. That's why you'll see so many chateau-type buildings.
From A-Z, An Index Of Fascinating History
You can get lists of iconic film locations and tourist sites anywhere (e.g. https://www.latimes.com/entertainment-arts/list/53-essential-l-a-filming-locations-how-many-have-you-visited). This is a list of things which are actually interesting.
Backstage Bar & Grill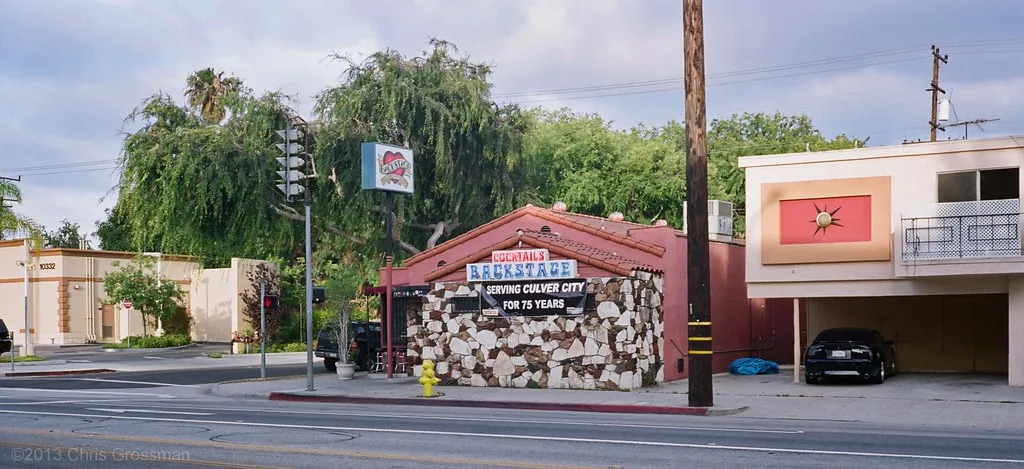 It's the dive bar opposite the entrance to Sony Studios in Culver City. The local pub for after work, which seems to love karaoke. It's been there 80 years and has some stories.
10400 Culver Blvd, 90232, Culver City
https://backstageculvercity.com/
Beverly Hills Hotel
It's been there since before BH was incorporated as a city. As Fran Lebowitz said, "Los Angeles is a large city-like area surrounding the Beverly Hills Hotel." There's 100 years of history in the Polo Lounge and the bungalow garden behind it: the Golden Age, the Rat Pack, Watergate, As well as a secret celebrity entrance.
9641 Sunset Boulevard, Beverly Hills, CA 90210
https://www.dorchestercollection.com/en/los-angeles/the-beverly-hills-hotel/
Biltmore Hotel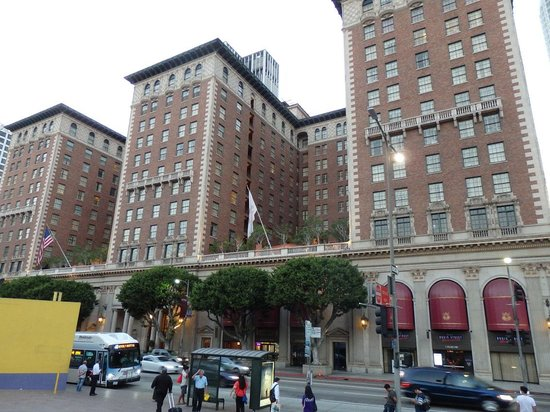 Don't cross the streams. Arguably one of the most beautiful Italian hotel interiors in the world, aka the Grand Dame. Birthplace of the Oscars and JFK's presidential campaign.A blast back to a gilded modernist age.
506 S Grand Ave, Los Angeles, CA 90071
https://www.millenniumhotels.com/en/los-angeles/millennium-biltmore-hotel-los-angeles/
Bronson Caves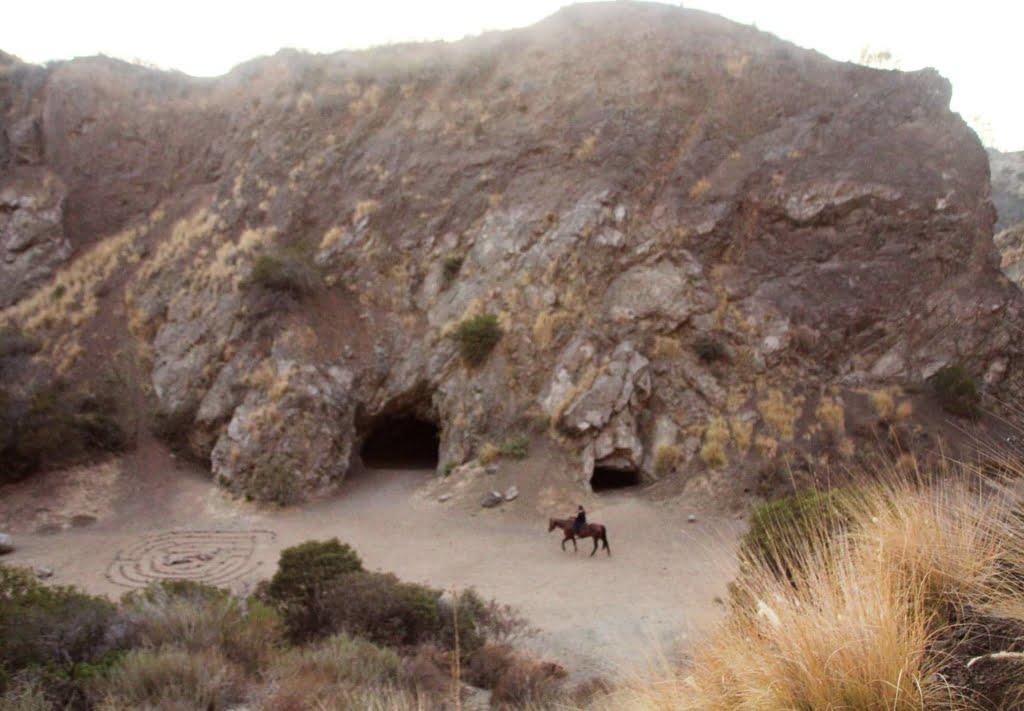 The Bat Cave. So no more.
Griffith Park, 3200 Canyon Dr, Los Angeles, CA 90068
https://en.wikipedia.org/wiki/Bronson_Canyon
Canter's Deli
The nice traditional Jewish deli from 1932 where the Golden Age stars had breakfast and 80s rock stars got fed on the cheap. The current owner grew up with Slash from Guns n' Roses. The bar and stage inside are both wonderful.
419 N Fairfax Ave, 90036, Los Angeles
https://www.cantersdeli.com/
Chateau Marmont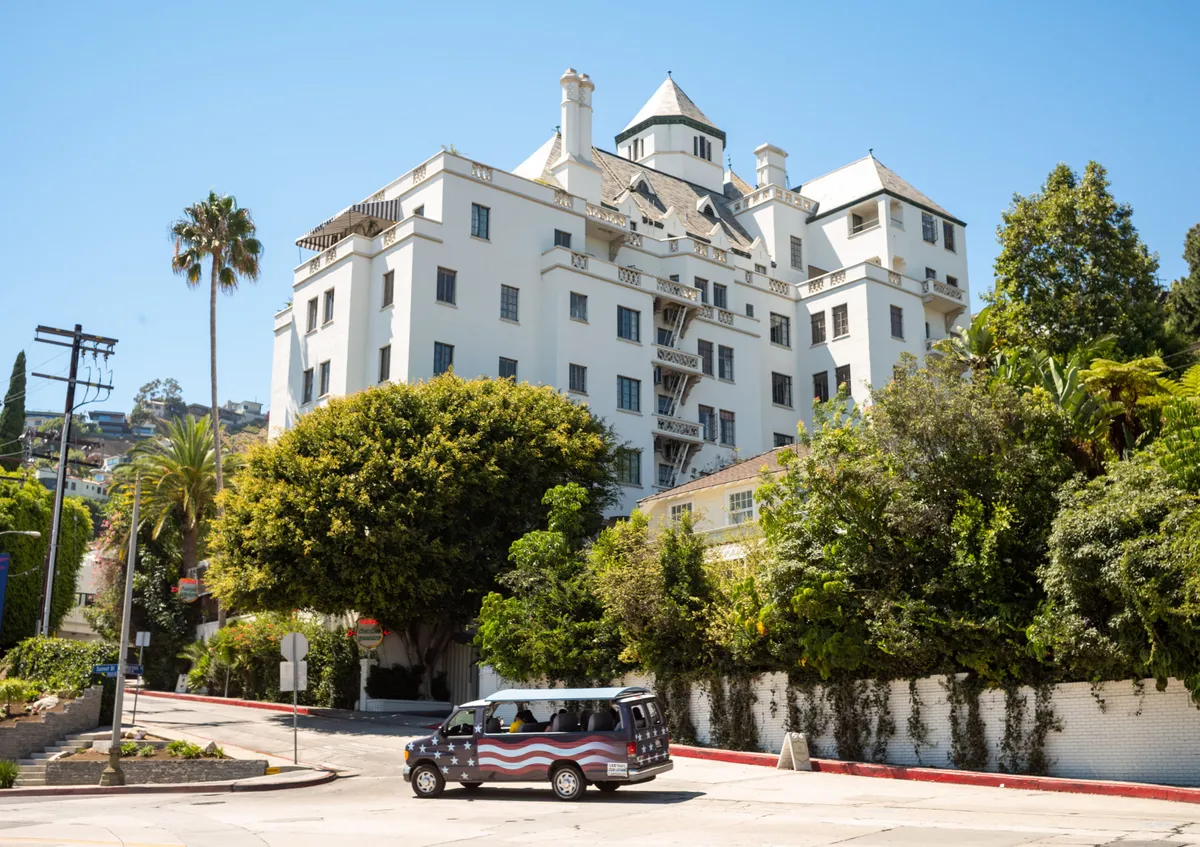 Where do you even begin with this place? Led Zeppelin road motorcycles through the lobby; Belushi OD'd in a bungalow; Jim Morrison climbed the walls on LSD; Lindsay Lohan and Britney Spears were banned. Studio heads sent deviant actors there to keep their degeneracy discreet. It goes on forever. The building is a French-style palace on Sunset, completely out of place.
For a definitive history, read "The Chateau on Sunset" by Shawn Levy.
8171 W Sunset Blvd, West Hollywood, CA 90046-2415
http://www.chateaumarmont.com/
Cicada Club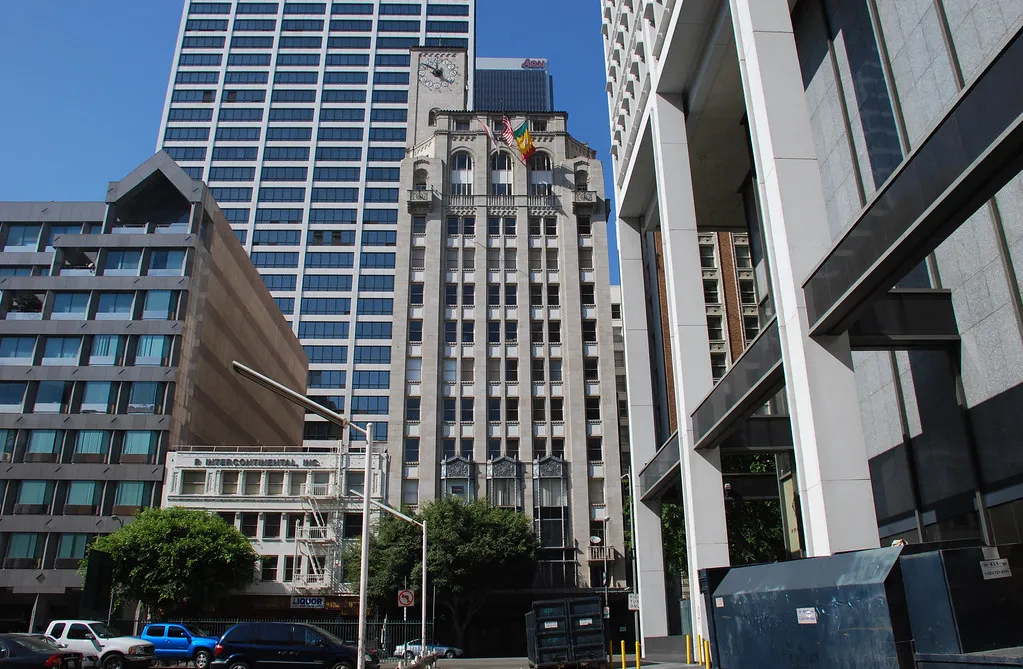 It's old, it's beautiful, and it's a time machine. Wealth, class, power, and vintage prestige. It's inside the James Oviatt Building. Not many words can describe this place, but make sure you tell your wife you wanted her to see it.
617 S. Olive St., Los Angeles 90014
https://www.cicadaclub.com/
Cielo Drive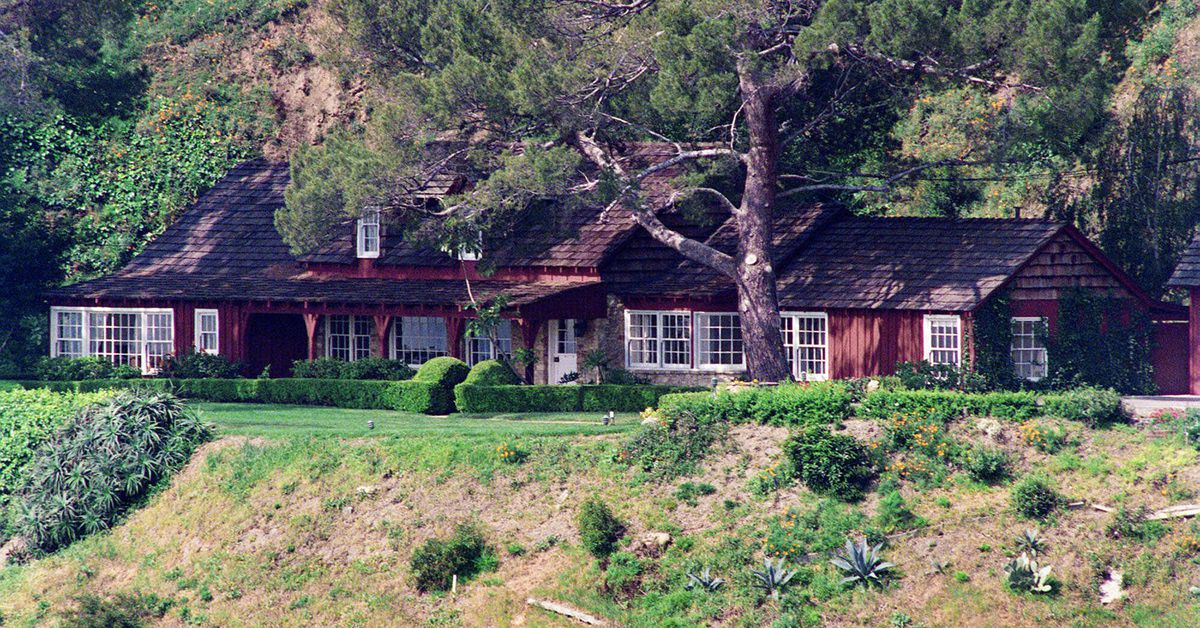 Roman Polanski's wife, Sharon Tate, was brutally murdered here in 1969 by fanatical disciples of Charles Manson; as depicted in Tarantino's Old Hollywood movie. The details  were horrific. Trent Rezor bought it to set up a recording studio, where Marilyn Manson recorded his first album. It was later demolished and rebuilt.
10050 Cielo Drive, Benedict Canyon
https://en.wikipedia.org/wiki/10050_Cielo_Drive
CIA Liaison Office
The CIA has a long and sordid history of collaboration in Hollywood which needs its own book. Word is the local field office of the official studio liaison - established formally in 1996 with Chase Brandon at the wheel - is on the Sunset Strip.
For those who are curious:
Hint: OSS.  There is more than one location.
El Capitan Theatre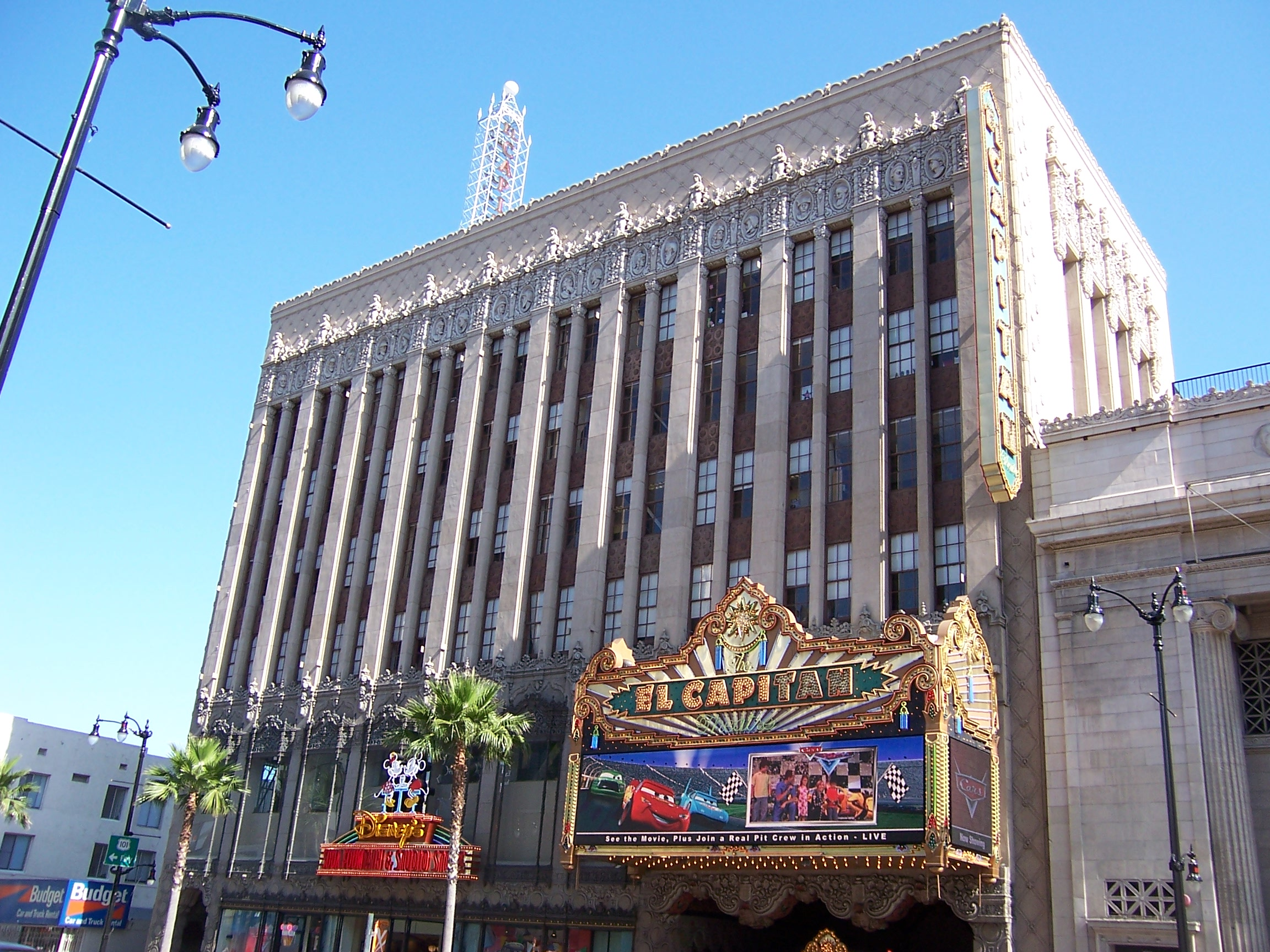 Living since 1926 right next to the Masonic Temple, it's where Disney premiere everything. It's one of the oldest theatrical buildings in the US, where Orson Welles first showed "Citizen Kane". This is where it all began, a century ago. It's a normal cinema to watch movies at, one at a time.
6838 Hollywood Boulevard, Hollywood
https://elcapitantheatre.com/
El Royale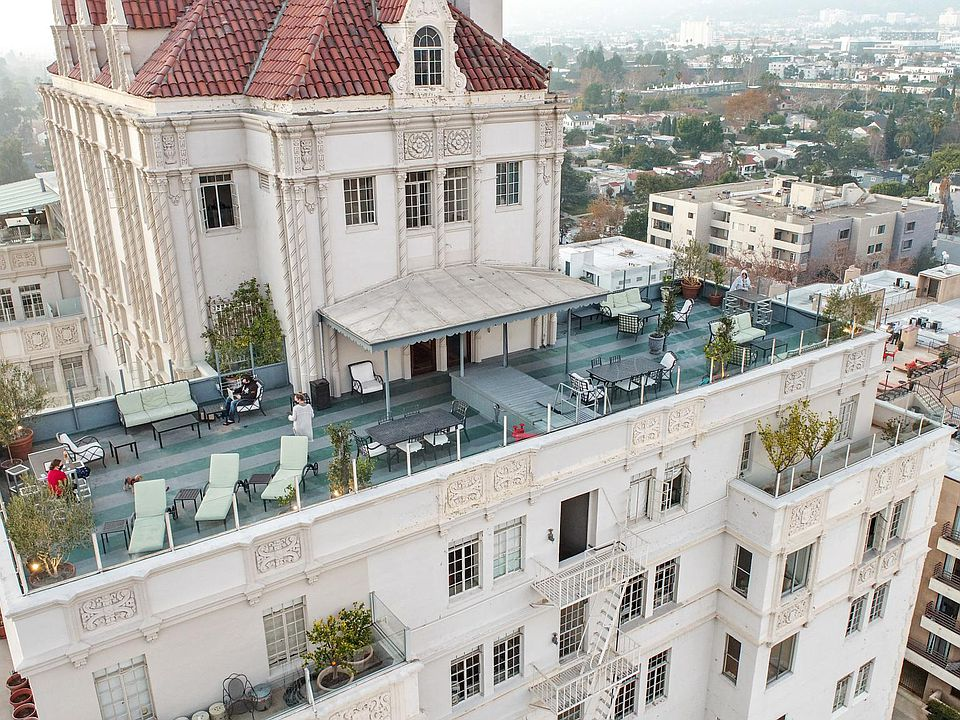 Designed by the same architect as the Chateau Marmont and possibly the best view of the entire city: the private apartment tower in Hancock Park which many of the actors you know lived in as they established their careers: Ben Stiller, Cameron Diaz, Nicholas Cage, and more.
450 N Rossmore Ave, 90004
https://en.wikipedia.org/wiki/El_Royale
Formosa Cafe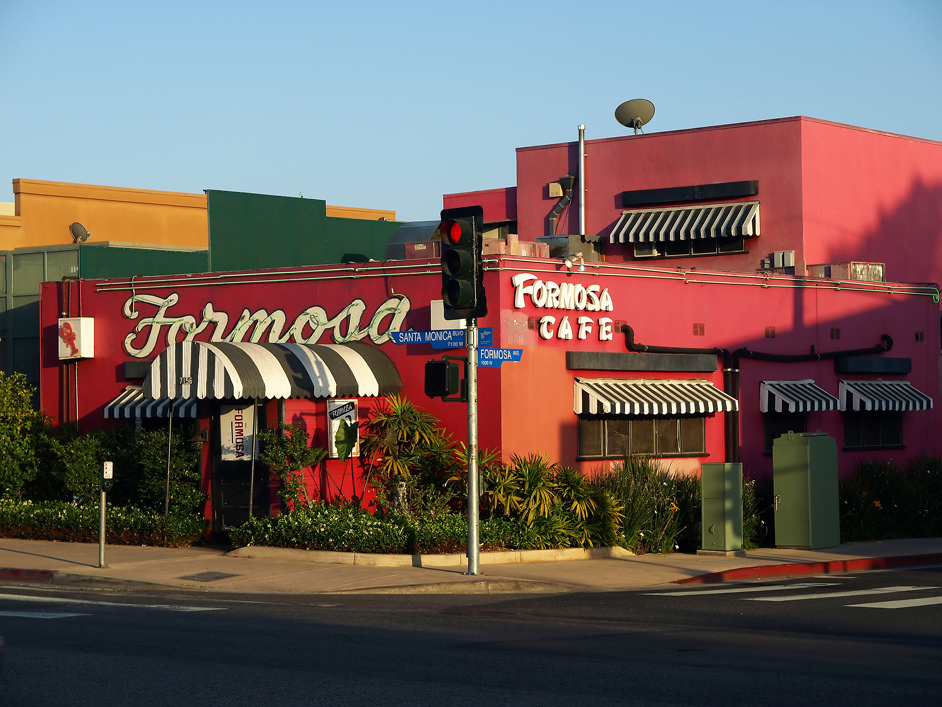 The Formosa was set up like Backstage Bar, next to what was the United Artists studio lot on Sunset Boulevard. All of the Golden Age stars spent hours there as their local lunch restaurant. You can see it in "L.A. Confidential".
7156 Santa Monica Blvd, West Hollywood, 90046
https://theformosacafe.com/
Frolic Room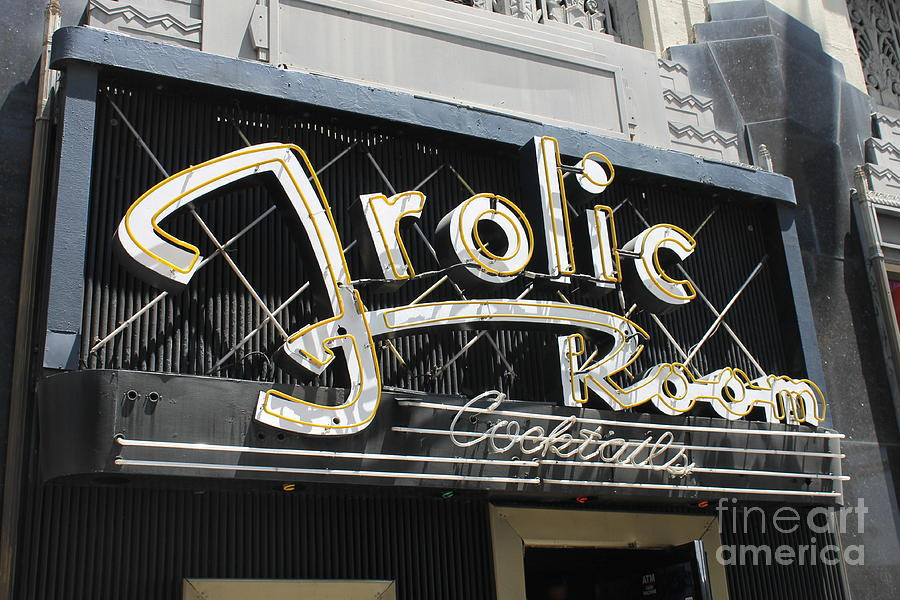 There are few more legendary dive bar cocktail speakeasies than this dirty cupboard on Hollywood Boulevard, which opened (legally) in 1934 with the end of Prohibition. It's a pilgrimage site for Bukowski fans, and connected with two iconic murders: the Black Dahlia murder of 1947, and security guard Gerald Thomas Andersen in 2010.
6245 Hollywood Blvd, Los Angeles, CA 90028
https://frolic-room.hub.biz/
Guitar Center (Rockwalk)
You don't have to be a musician for this. All the hands of the famous ones you know are embedded in the concrete outside it. GC sits in "Guitar Row" of Sunset Boulevard and has a massive stage in the back for performances (search Youtube for it). Pro Tip: behind this building was the location of Guns n Roses' rehearsal room.
While you're there, check out the Sunset Grill, Mesa Boogie etc. It's the street where all your favourite rock stars buy their kit.
7425 Sunset Blvd, Los Angeles, CA 90046
https://stores.guitarcenter.com/ca/hollywood/110
Hollywood United F.C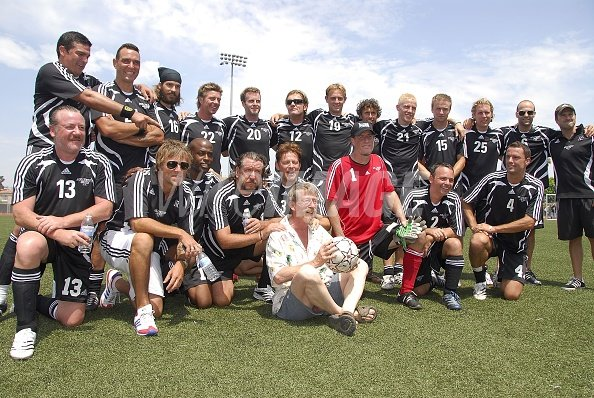 One of the best-kept secrets of Tinseltown is the football (soccer) team created by members of Def Leppard, The Cult, The Sex Pistols, and more, who were working class British locals of the Cat & Fiddle pub. Every male British star knows the team, and it prompted Robbie Williams to create a rival which got him in a lot of trouble with Joe Pesci.
The latter story is actually much funnier. Williams was away on tour, and the players taunted Pesci by loudly playing his cringeworthy old CD: https://www.nzherald.co.nz/entertainment/joe-pesci-threatens-robbie-williams-with-golf-club/4C45QUIFMHRTG3UA42KNA3QSTY/
Crossroads High School, Santa Monica
https://en.wikipedia.org/wiki/Hollywood_United_F.C.
Hyatt West Hollywood (Andaz)
If you played the Whiskey, the label booked you in here. Now called the Andaz, it was known under as Continental-something or Hyatt-something. It's nickname was the "Riot House" for the TVs thrown out of the windows by the Stones, Led Zepp, and The Who. The picture frames telling the history are on the penthouse PH) floor by the pool.
8401 Sunset Blvd, West Hollywood, CA 90069
https://www.hyatt.com/en-US/hotel/california/andaz-west-hollywood/laxss
Jack Warner Estate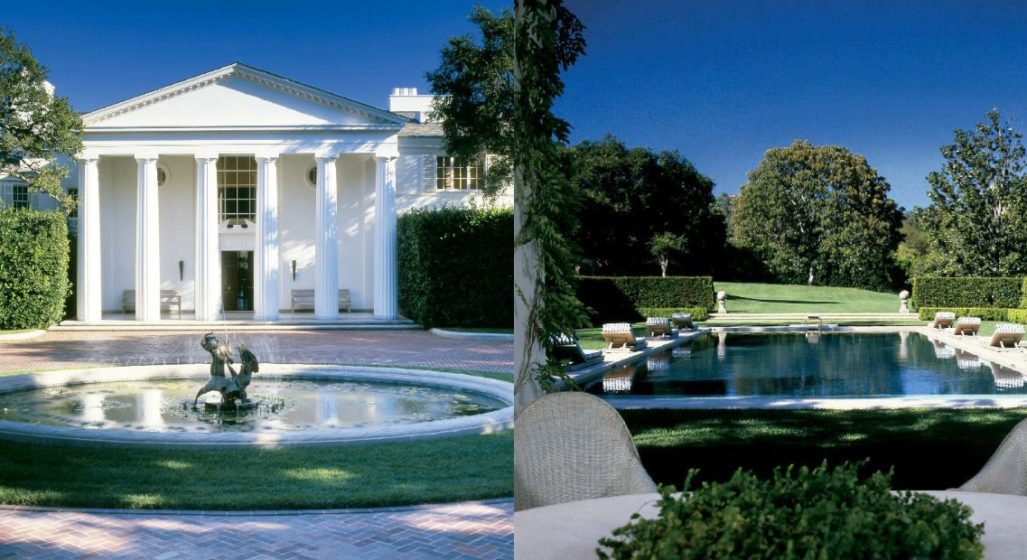 It's the last movie studio mogul estate from the Golden Age. Gay sociopath billionaire David Geffen recently sold it to Jeff Bezos for US$165 million after be bought it from Warner's widow in 1990.
1801 Angelo Drive, Beverly Hills
https://en.wikipedia.org/wiki/Jack_Warner_Estate
Johnie's Coffee Shop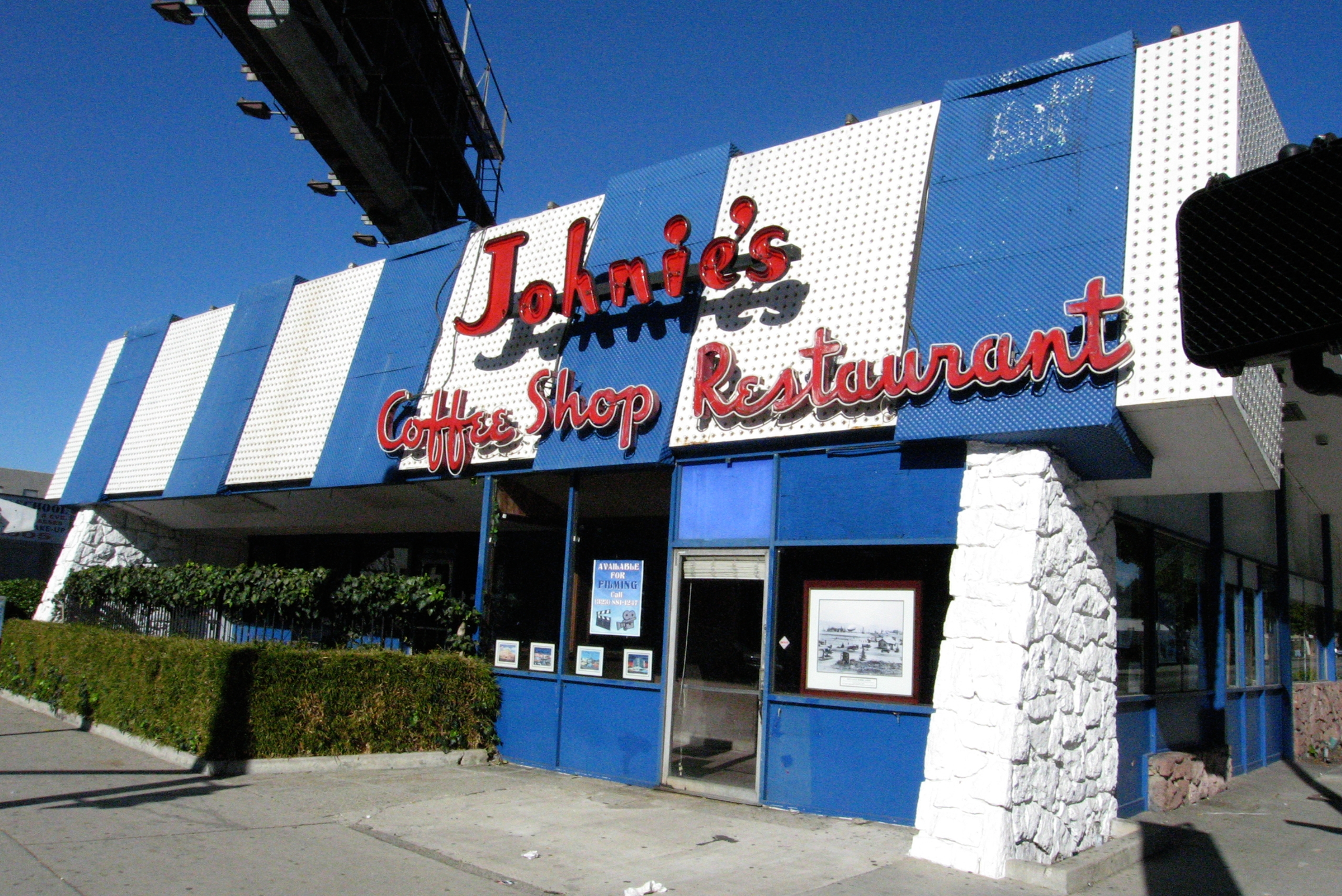 Although it's not as famous, it's iconic Googe. You'll know it from the movie "Miracle Mile", "The Big Lebowski", "American History X", "Gone in 60 Seconds", and a lot of music videos. It's now a shrine to Bernie Sanders.
6101 Wilshire Boulevard; Los Angeles, California
https://www.facebook.com/Berniescoffeeshop/
Jumbo's Clown Room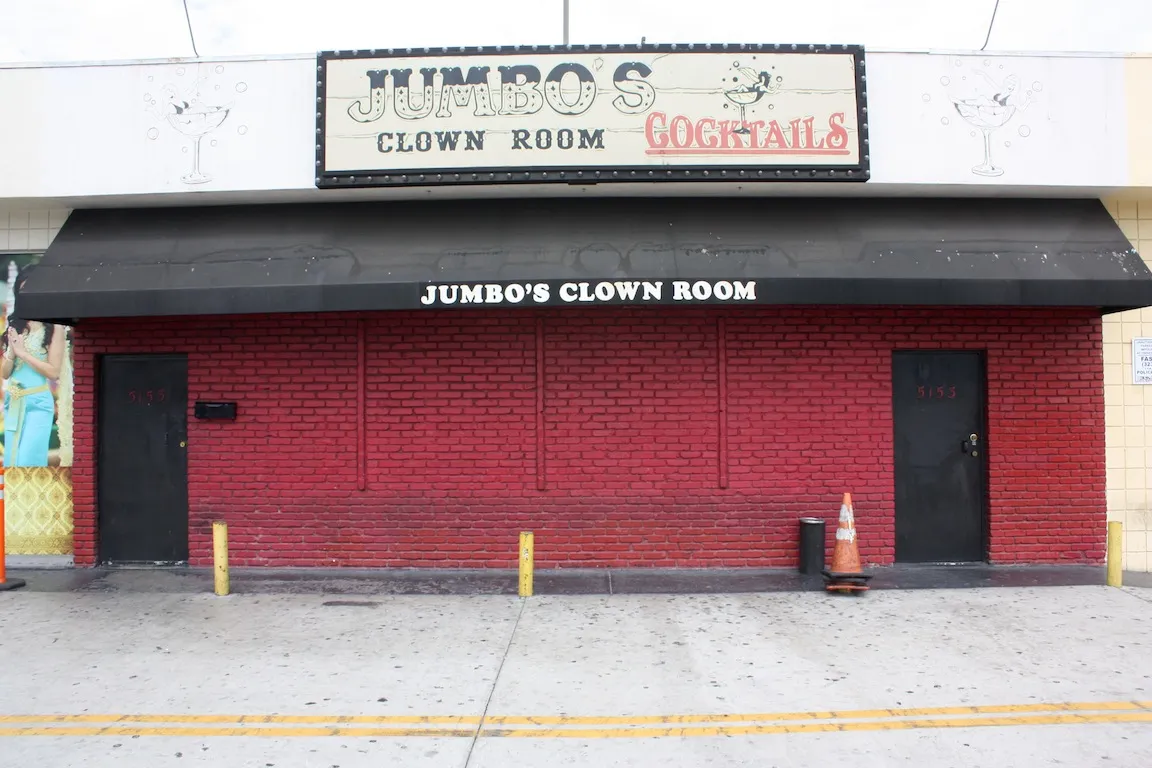 The one stop you won't really know about unless you're a local. Jumbo's is a middle-class strip bar where Courtney Love used to work and Anthony Bourdain frequented. It's infamous for rock n' roll bands, and you'll figure out quickly where the inspiration for Motley Crue's "Girls, Girls, Girls" came from. It's gross, and hilarious.
5153 Hollywood Blvd, Los Angeles, CA 90027
https://jumbos.com/
La Dolce Vita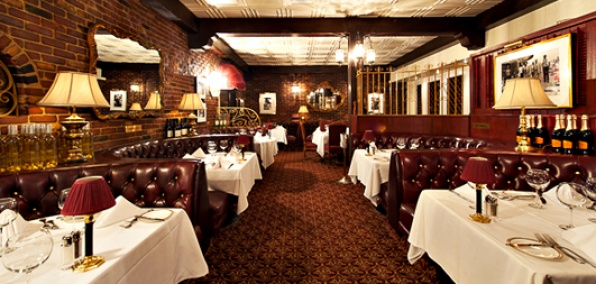 It's one of the oldest and best Italian restaurants Sinatra and the Rat Pack would lounge at. Sinatra put up the money for it in 1966.
9785 Santa Monica Blvd, Beverly Hills, 90210
https://www.ladolcevitabeverlyhills.com/
Landmark Motor Hotel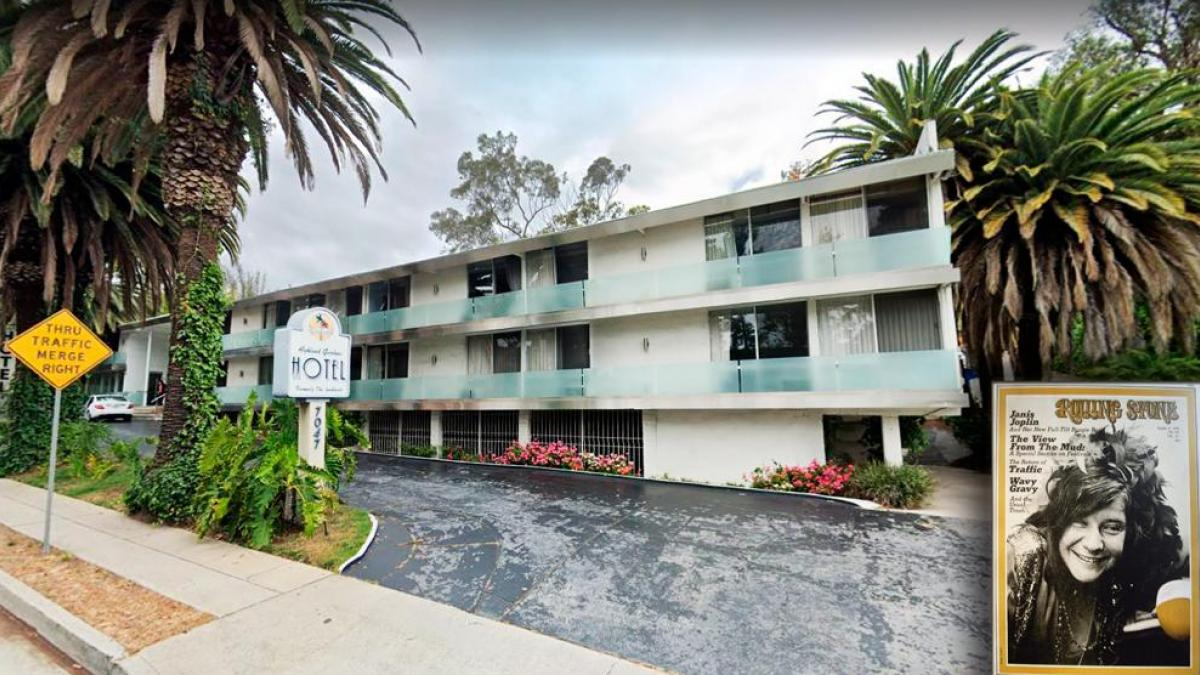 It's slightly weird, but this place hosts a shrine to Janis Joplin because it's the hotel where she died from a heroin overdose in room #105 in 1970 at the age of 27. It's now the Highland Gardens Hotel.
7047 Franklin Ave Los Angeles, California, 90028
https://www.highlandgardenshotel.com/about-us/our-history.html
The Magic Castle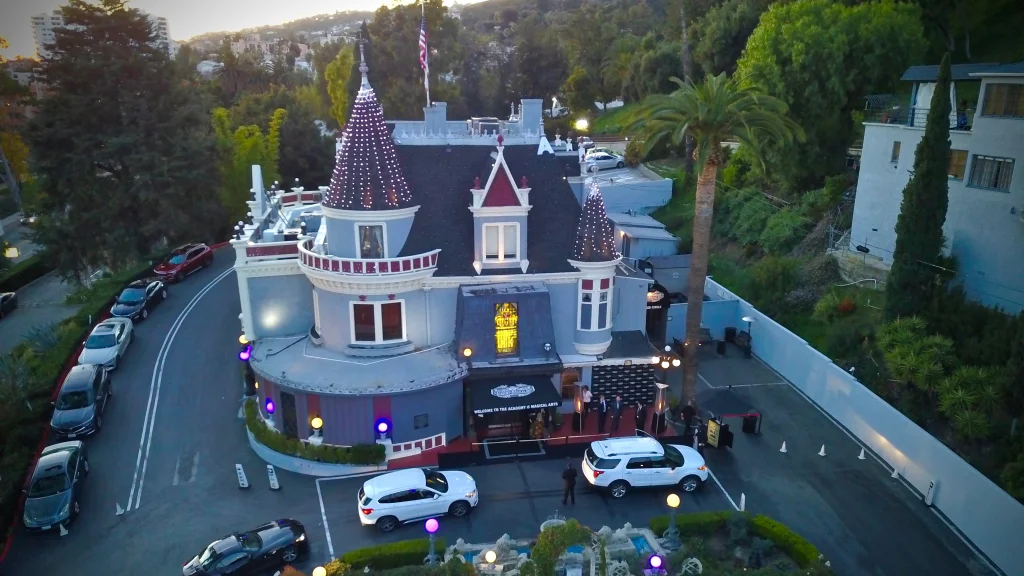 Everyone knows this: the HQ of The Magic Circle (Academy of Magical Arts) built in 1909. You need a magician friend to invite you to the bar because it's a private club. The foyer has no doors and you need a password to enter.
7001 Franklin Ave, Los Angeles, CA 90028
http://www.magiccastle.com/
Matteo's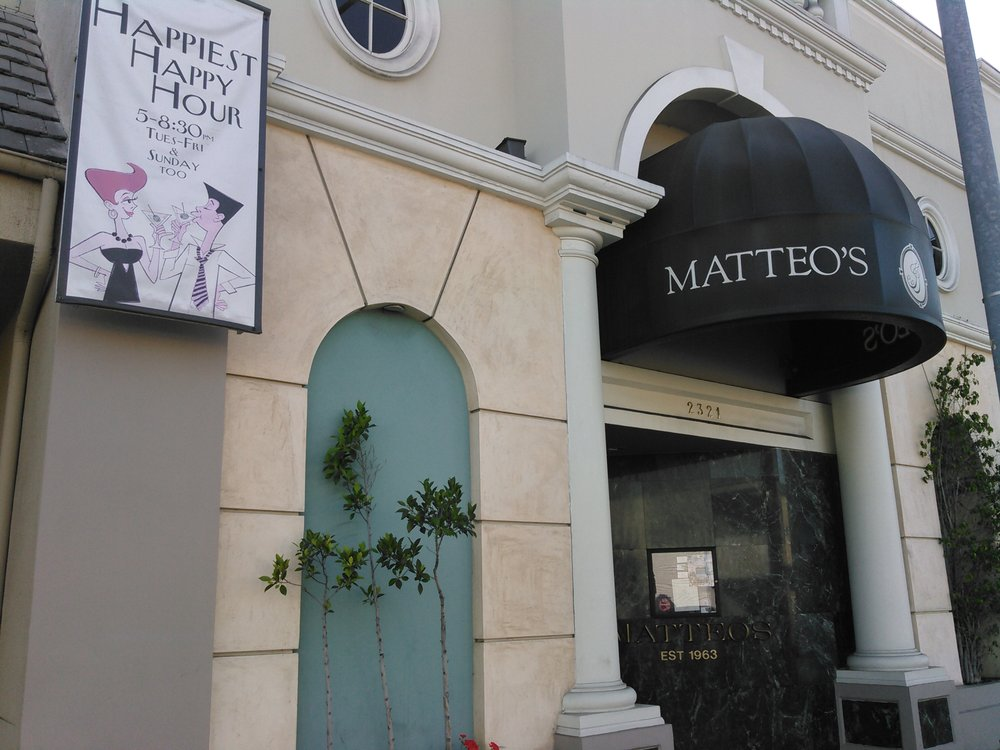 The swanky Old Hollywood Italian favourite again frequented by Sinatra and the Rat Pack, owned by his childhood friend. You're stepping back in time.
2321 Westwood Blvd, Los Angeles, CA 90064
https://matteositalianrestaurant.com/
Mel's Drive-In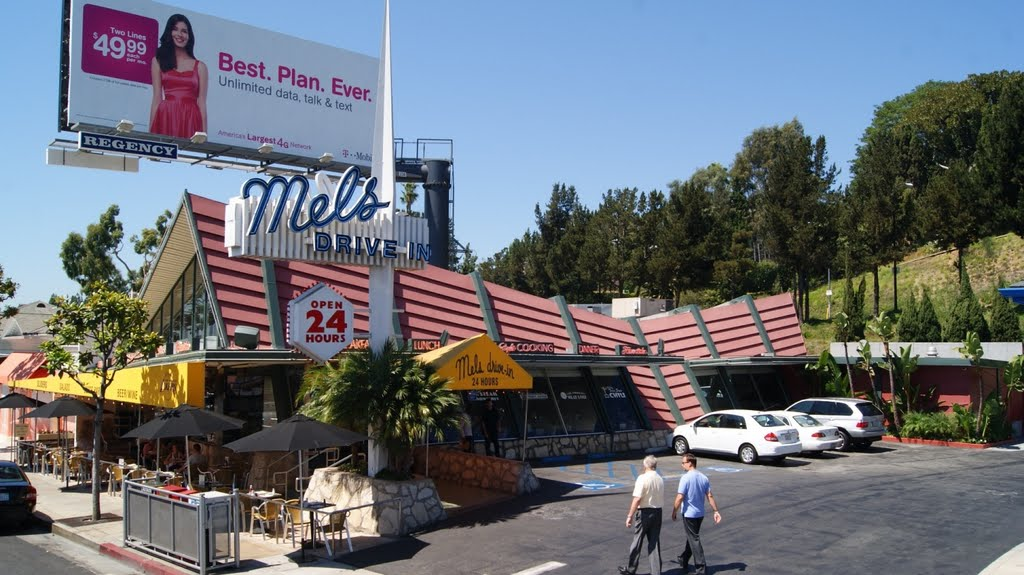 The most famous diner in the world since 1947. Def Leppard ate breakfast here after long nights out. Goerge Lucas used it for "American Graffiti". Mel's is actually a chain, but the three locations at North Highland, the Sunset Strip, and Route 66 Lincoln Blvd all serve great Americana.
The Sunset location used to be Ben Franks coffee shop.
8585 Sunset Blvd, West Hollywood, CA 90069
https://melsdrive-in.com/
Musso & Frank's Grill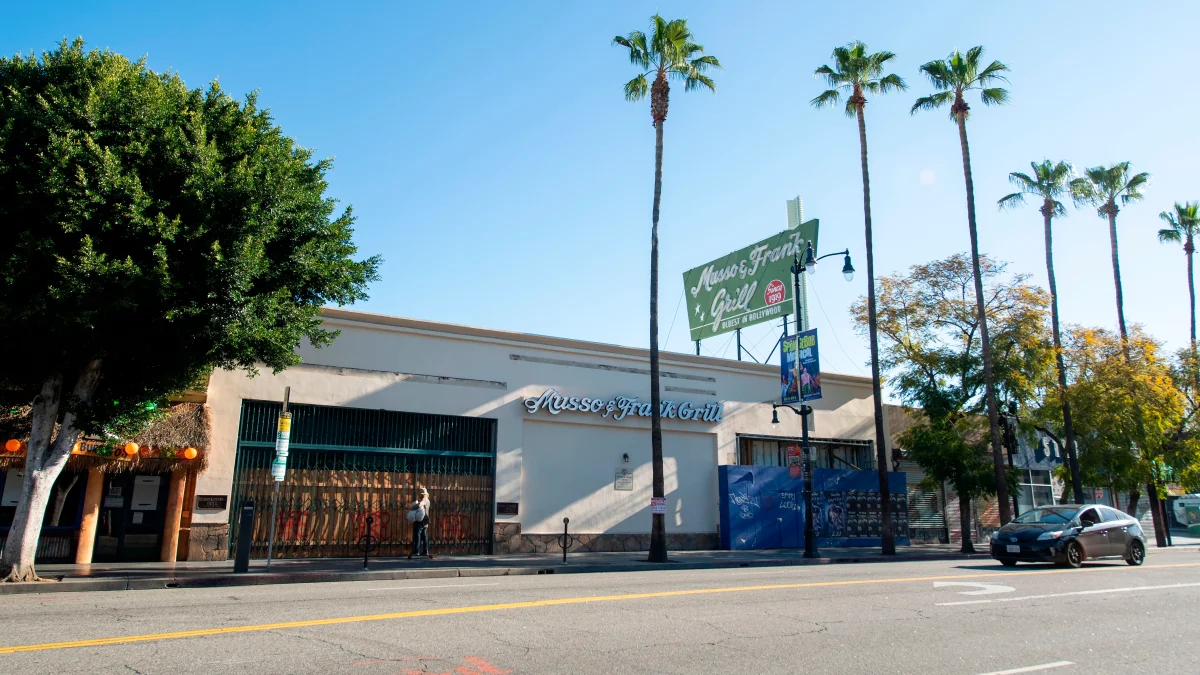 Musso and Frank's is the GOAT. The OG. The original and oldest in town. If the Beverly Hills is the hotel, this is the restaurant. Everyone who was ever anyone walked through the doors and has eaten the lobster. From Ernest Hemingway, to F. Scott Fitzgerald, to Nixon, to Charles Bukowski. Chaplin, Garbo, Bogart, Marilyn, everyone. Sadly, it's now a tourist hellhole.
6667 Hollywood Blvd, Hollywood, CA 90028
https://mussoandfrank.com/
North Clark St, #1114 & #1124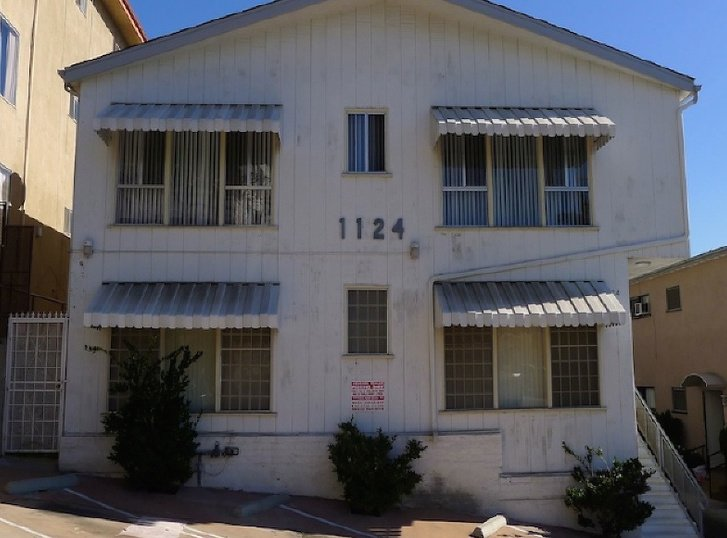 For music nerds. Where Motley Crue (1124) and Guns n Roses (1114) lived, before they were famous. There's some argument about the actual units, but you can see the proximity to the Whiskey. 1114 was supposedly manager Vicky Hamilton's place where she sheltered Axl Rose after a rape charge. The "Cat House" is no more, but the GnR "Hell House" can be found at 1139 N Fuller Avenue: https://medium.com/cuepoint/inside-the-horrific-guns-n-roses-hell-house-971e20df749c
More: https://cruepast.com/motley-house/
1124 North Clark St, West Hollywood, 90069
Paramount Studios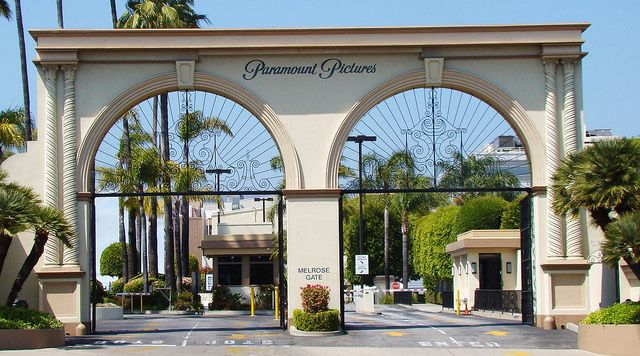 It's cheesy, but you can book a tour on a golf buggy. Paramount is the only major historic studio left in town and its a throwback to better maverick days.
5515 Melrose Ave, Los Angeles, CA 90038
https://www.paramountstudiotour.com/
Peninsula Hotel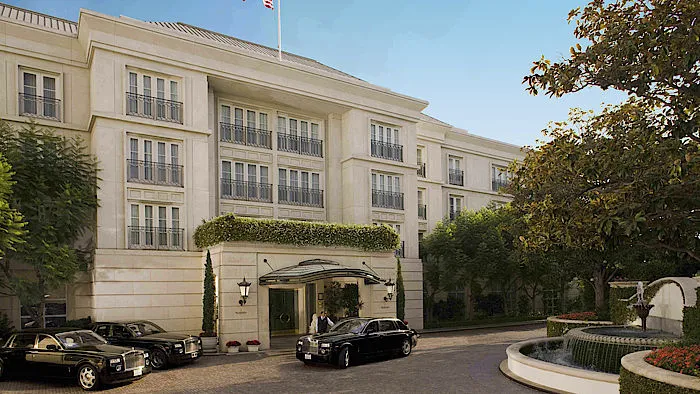 It's staggeringly beautiful. But it's also where Anna Nicole Smith and Courtney Love overdosed, and Harvey Weinstein predated actresses from his suite.
9882 Santa Monica Blvd, Beverly Hills, CA 90212
https://www.peninsula.com/en/beverly-hills/5-star-luxury-hotel-beverly-hills
Playboy Mansion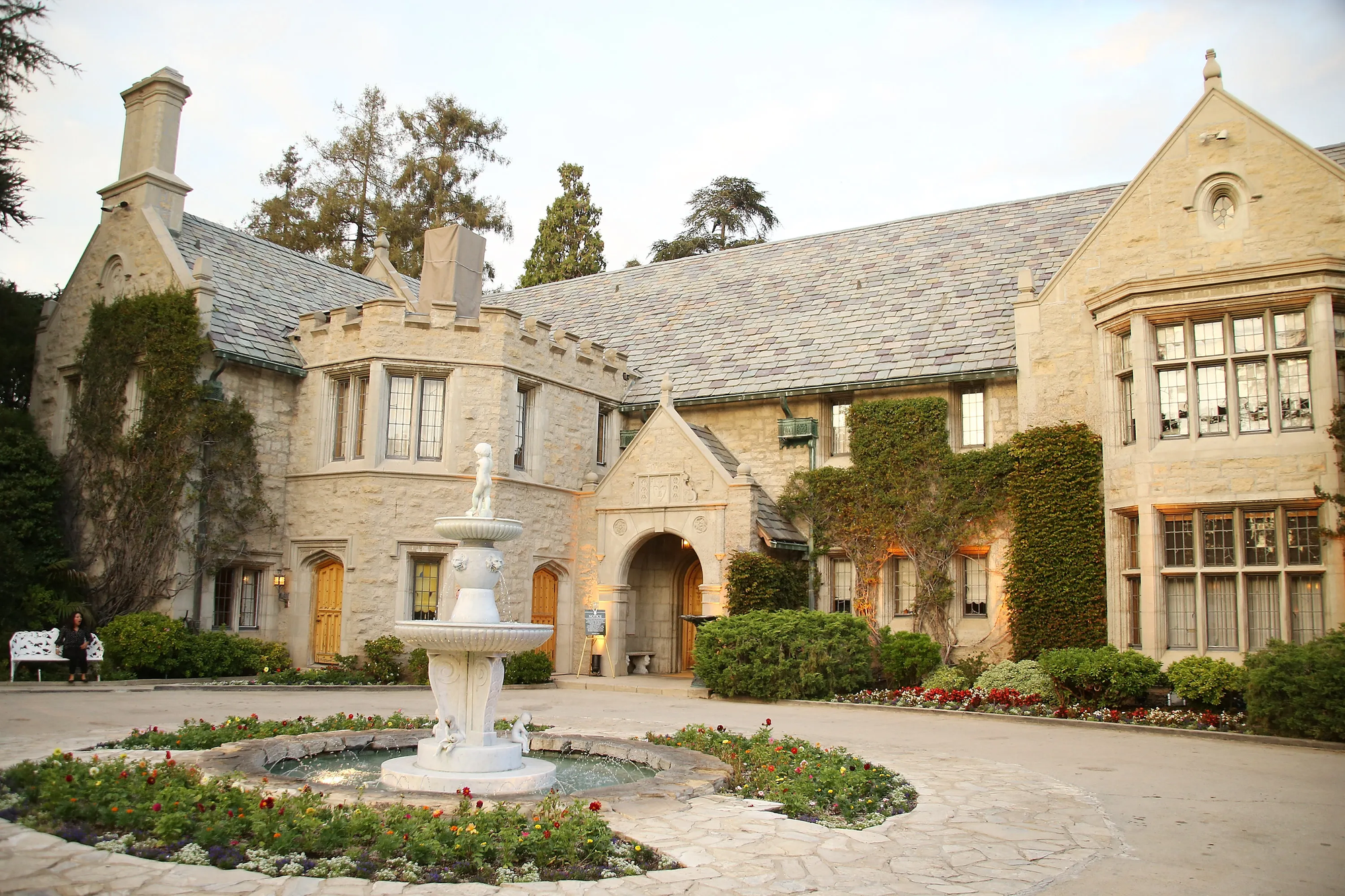 Is any description needed for the rape house?
10236 Charing Cross Rd, Los Angeles, CA 90024
https://en.wikipedia.org/wiki/Playboy_Mansion
Rainbow Bar & Grill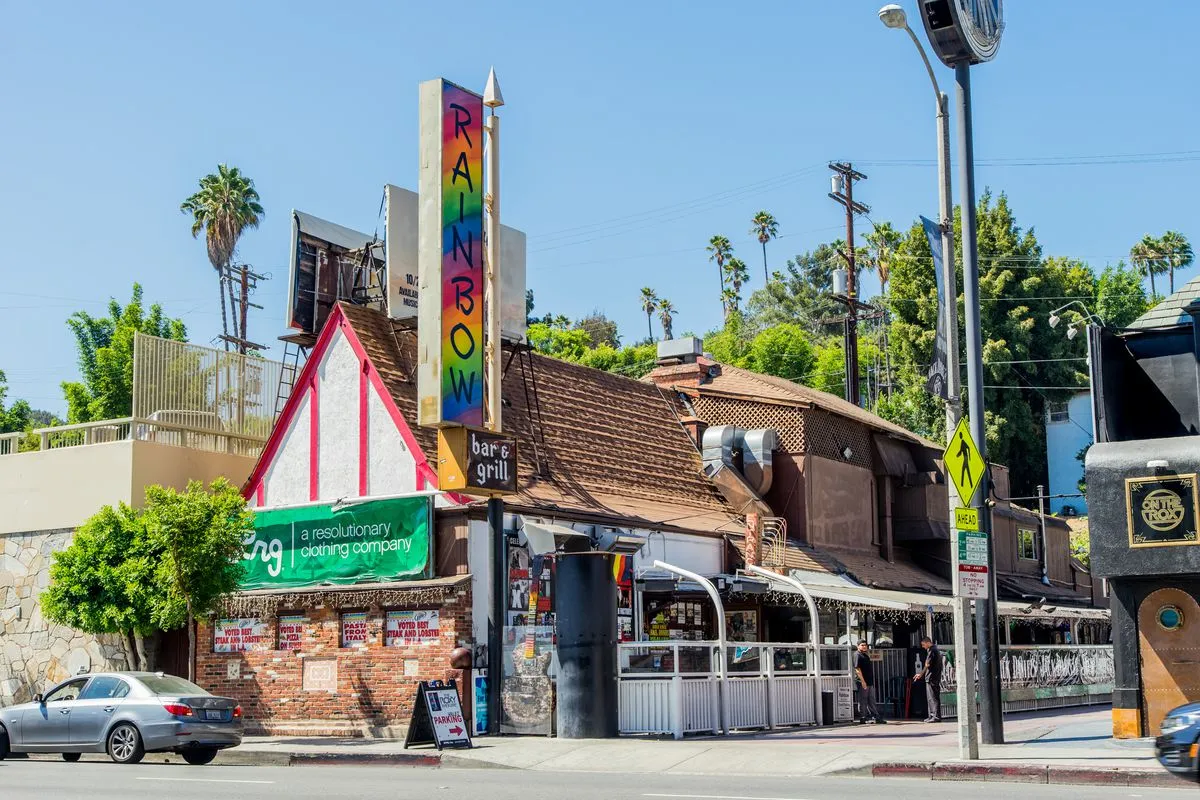 If the Beverly Hills is the hotel, and Musso & Frank's is the restaurant, then the Rainbow is the Bar. Almost all rock n' roll metal history from the 70s to today can be traced back to this one courtyard biker bar next to the Roxy. The Polaroid photos alone should be given national history status. Alice Cooper, Lemmy, Guns n Roses, the Beatles, the Who, Poison, Motley Crue... if you played any of the venues, this is where you drank afterwards.
9015 W Sunset Blvd, West Hollywood, CA 90069
https://www.rainbowbarandgrill.com/
Richfield Gas Station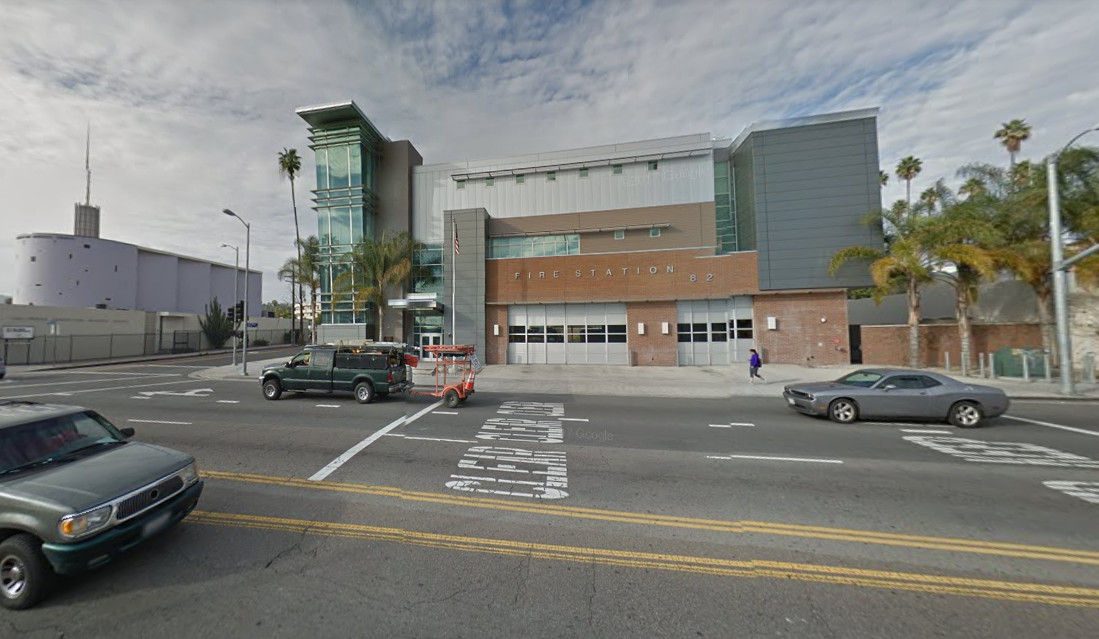 If you've seen Netflix's gay propaganda tale "Hollywood", you're watching a fictionalization of Scotty Bowers' story told in "The Secret History of Hollywood". Bowers claimed to be a former-prostitute-turned-pimp for the Golden Age stars, many of whom were secretly gay. It was all done under the front of a gas station. It's now a fire station.
More: https://www.esquire.com/entertainment/tv/a32293278/netflix-hollywood-ernie-gas-station-scotty-bowers-true-story-ryan-murphy/ and https://www.rollingstone.com/culture/culture-features/hollywood-ryan-murphy-scotty-bowers-gas-station-sex-ring-994838/
5777 Hollywood Boulevard
Roosevelt Hotel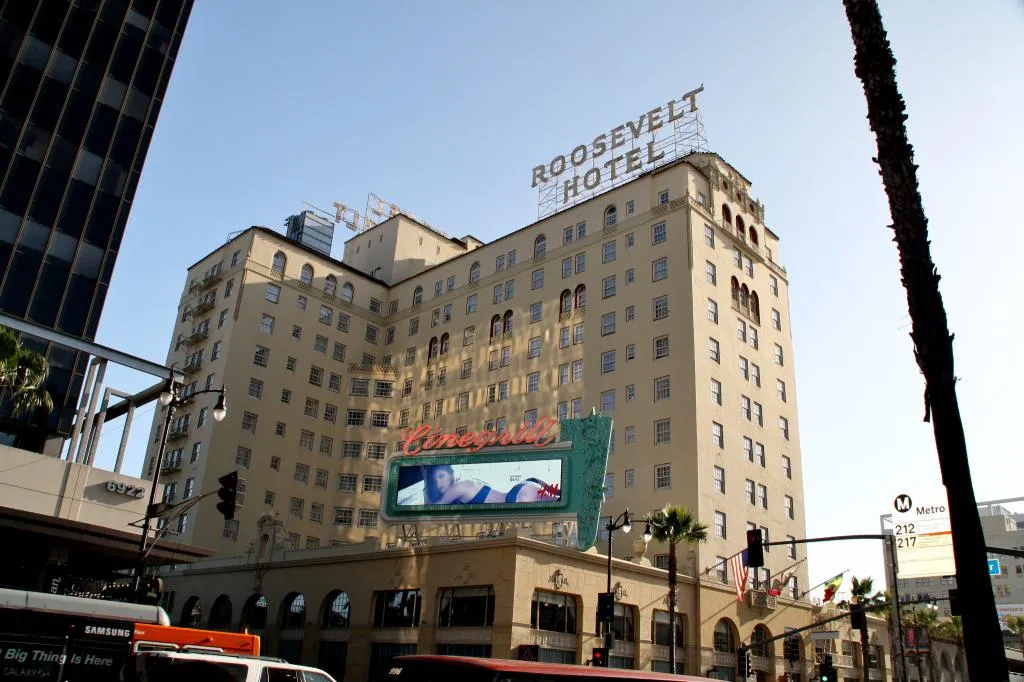 Named after Theodore, location of the first Oscars, home to Marilyn, dance floor for Shirley Temple, film set for a thousand movies, and the centre of all Golden Age history for the area. Back home from Musso's, for a cocktail at the Roosevelt. This place has the feel of a mausoleum or a mortuary. It's unsettling.
7000 Hollywood Boulevard, Los Angeles, CA 90028
https://www.thehollywoodroosevelt.com/
Roxy Theatre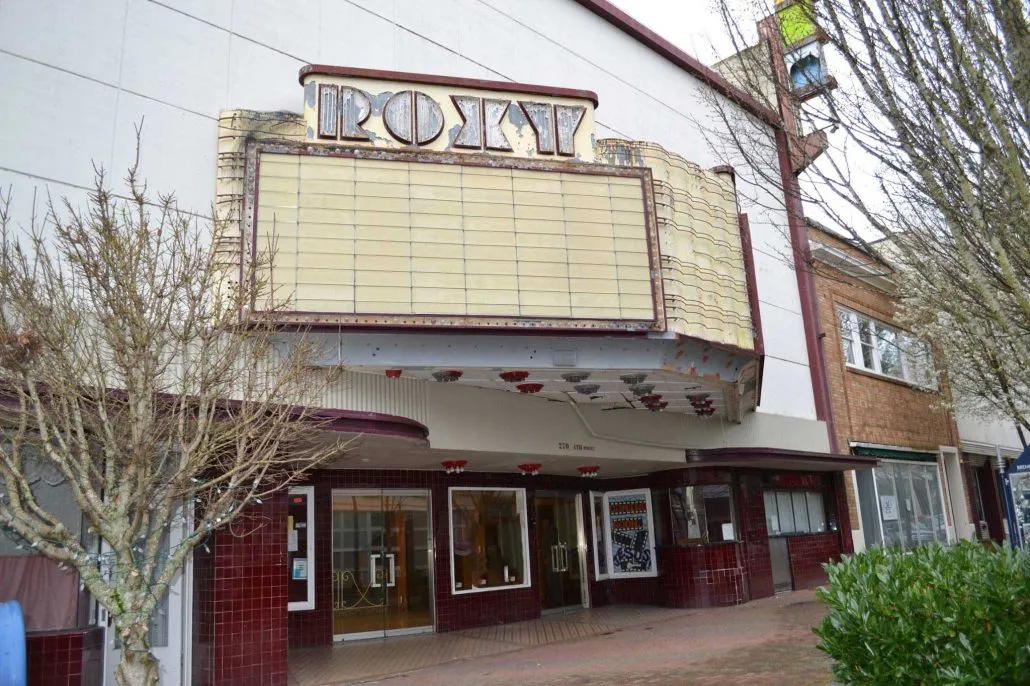 Twinned with the Rainbow Bar, this is where a lot of the most famous comedians bands you know played and got spotted by future moguls like David Geffen. Above it emerged On The Rox, a private club for celebrities.
9009 W Sunset Blvd, West Hollywood, California 90069
https://www.theroxy.com/
Saban Theatre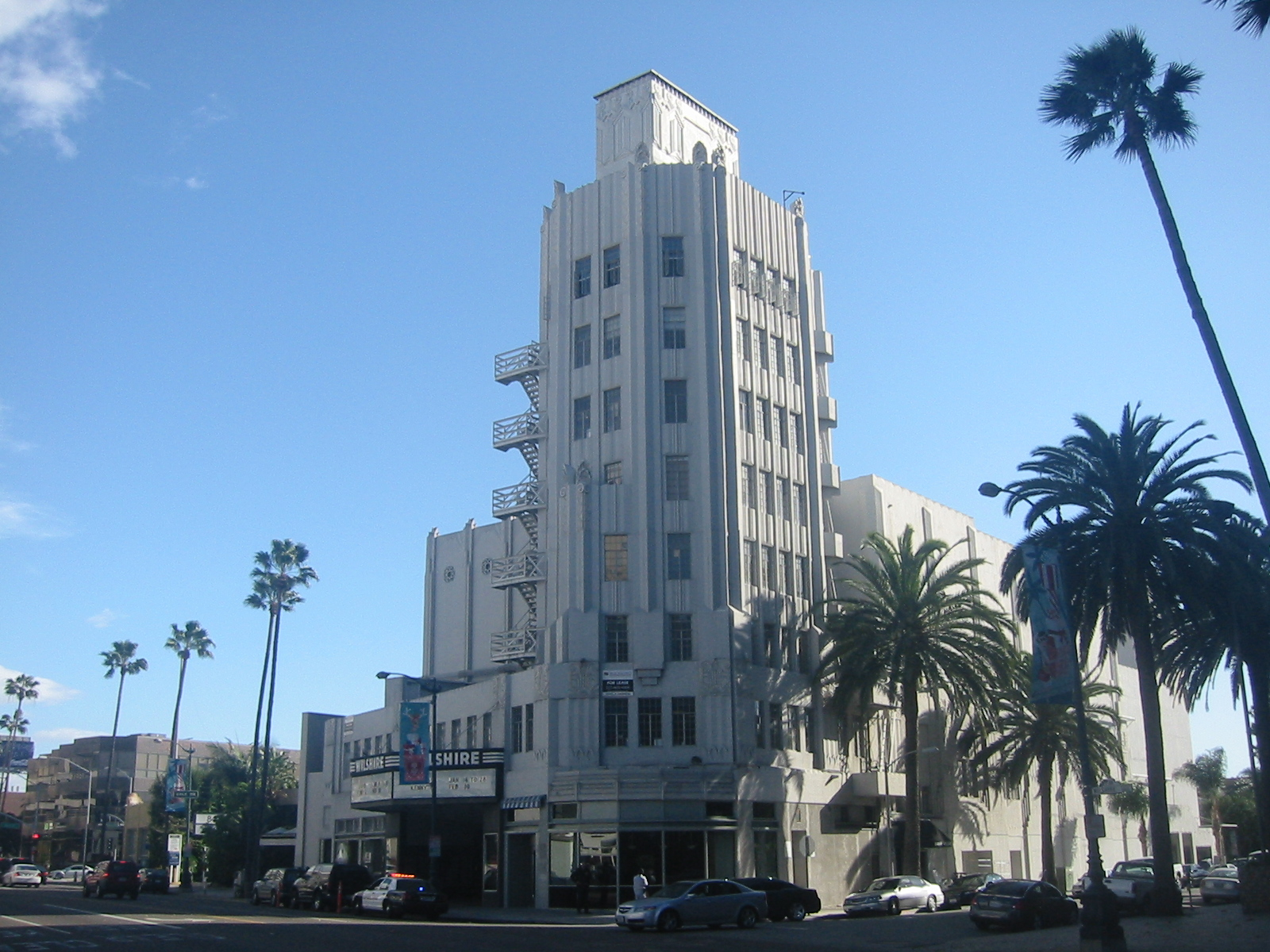 It's a beautiful old music art derco theatre which doubles as a synagogue and a church, and formely known as the Fox Wilshire Theater from 1930. Disney has the El Capitan, Fox had here for premieres.
8440 Wilshire Blvd, Beverly Hills, CA 90211
https://wheremusicmeetsthesoul.com/saban-beverly-hills/
Scientology Celebrity Centre (Château Élysée)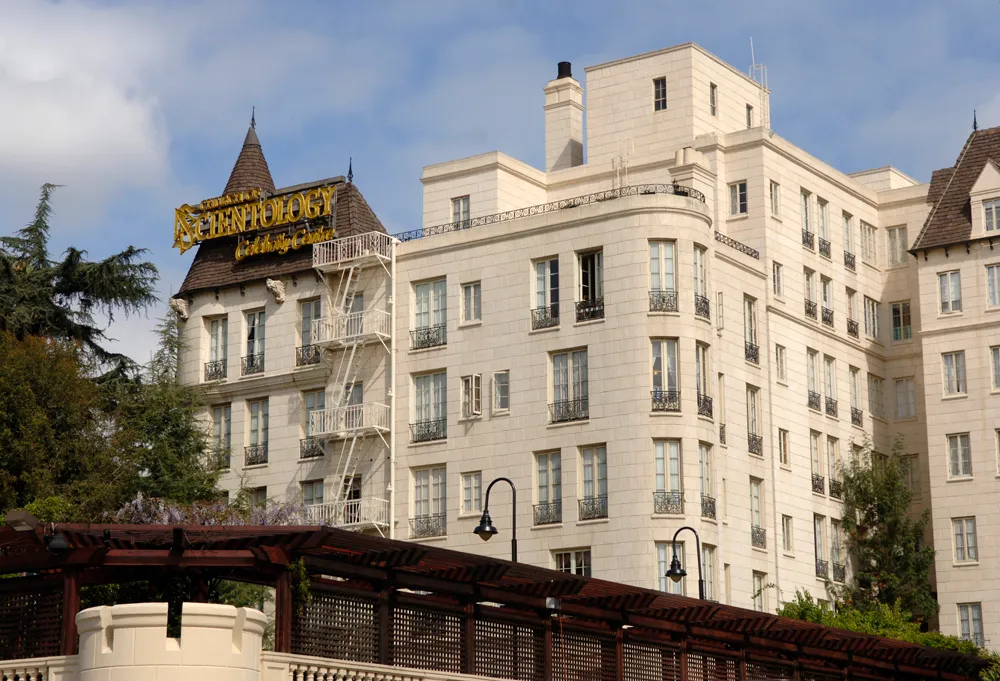 No, not the grotesque blue psychiatric hospital building. The weird chateau where the VIPs do their strange pagan rituals in their "church" away from the public.
5930 Franklin Avenue Hollywood, CA 90028
https://www.scientology.cc/about-us/inside-our-church/
Sunset Marquis Hotel
The flashy rock n' roll hotel for musicians who have already made it and want to sleep rather than throw TVs out of the window. The nutjobs stayed at the Hyatt, the bourgeois stayed here.
1200 Alta Loma Rd, West Hollywood, CA 90069
https://sunsetmarquis.com/
Sunset Sound

The 2nd most famous recording studio of all time after Abbey Road, which produced 300+ gold records: Purple Rain, Exile on Main Street, Pearl, The Doors, and more.
6650 Sunset Blvd, Los Angeles, CA 90028
https://www.sunsetsound.com/
Sunset Tower Bar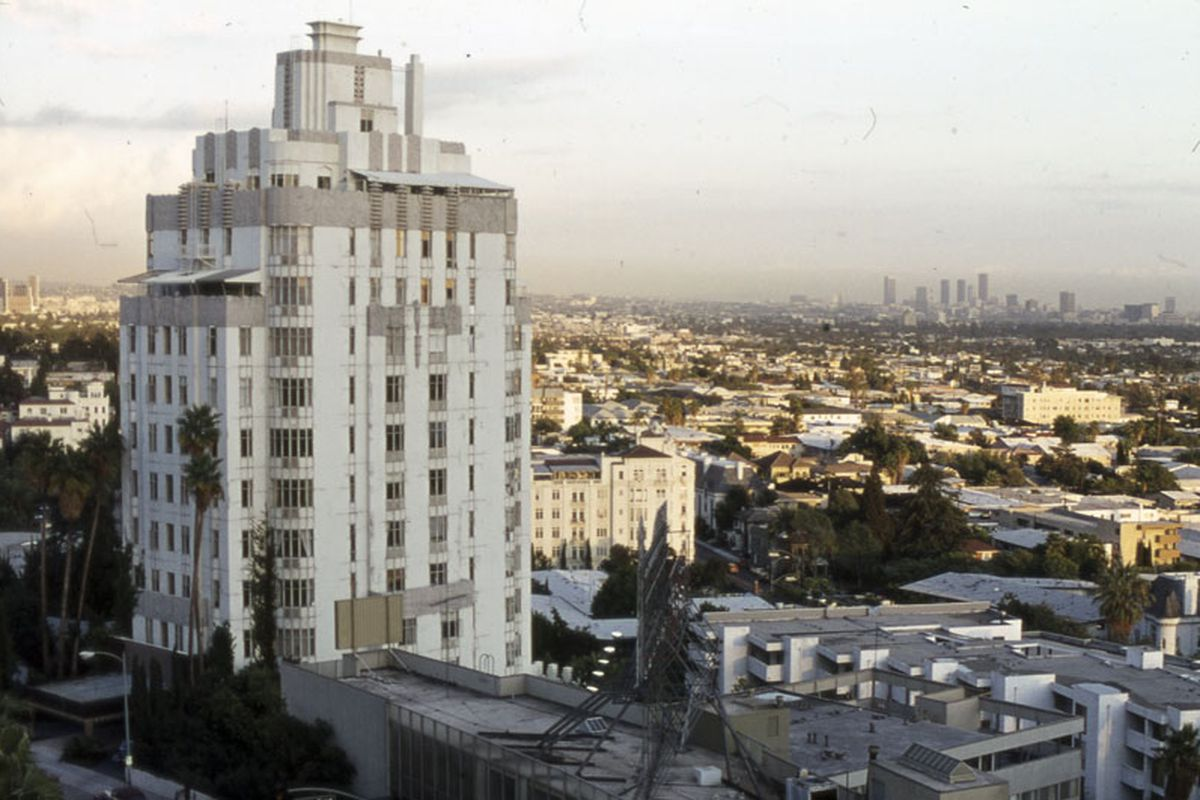 It's a historic art deco hotel nicknamed the "Old Dame", but you're looking for its bar on the mezzanine floor. The reception is the most papped in the world. It's where a lot of celebrities have lived, and still hold private parties. Also, the Vanity Fair afterparty. It's been previously known as the St James and the Argyle. The bar is a dark and moody, and like something out of Ocean's 11.
8358 Sunset Blvd, West Hollywood, CA 90069
https://www.sunsettowerhotel.com/history
Sy Devore Tailoring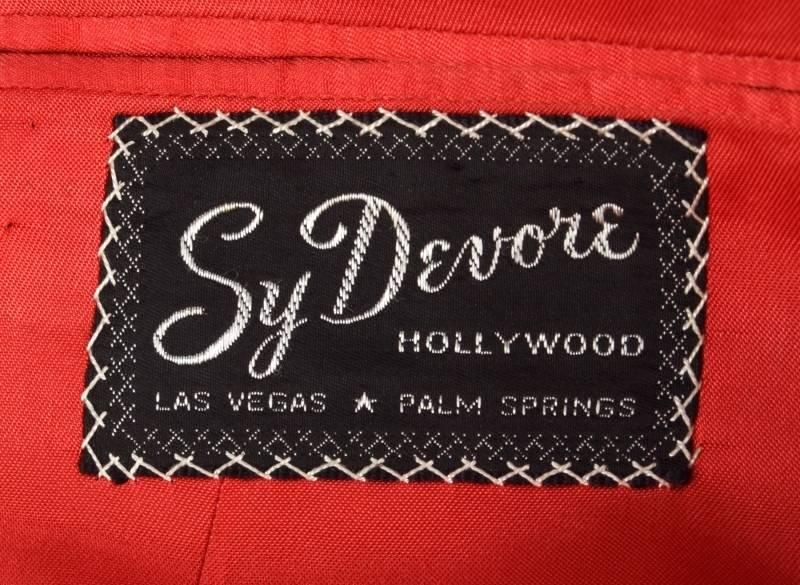 The Rat Pack's tailor. Enough said.
12672 Ventura Blvd, Studio City, CA 91604
https://www.sydevore.com/
Tom Bergin's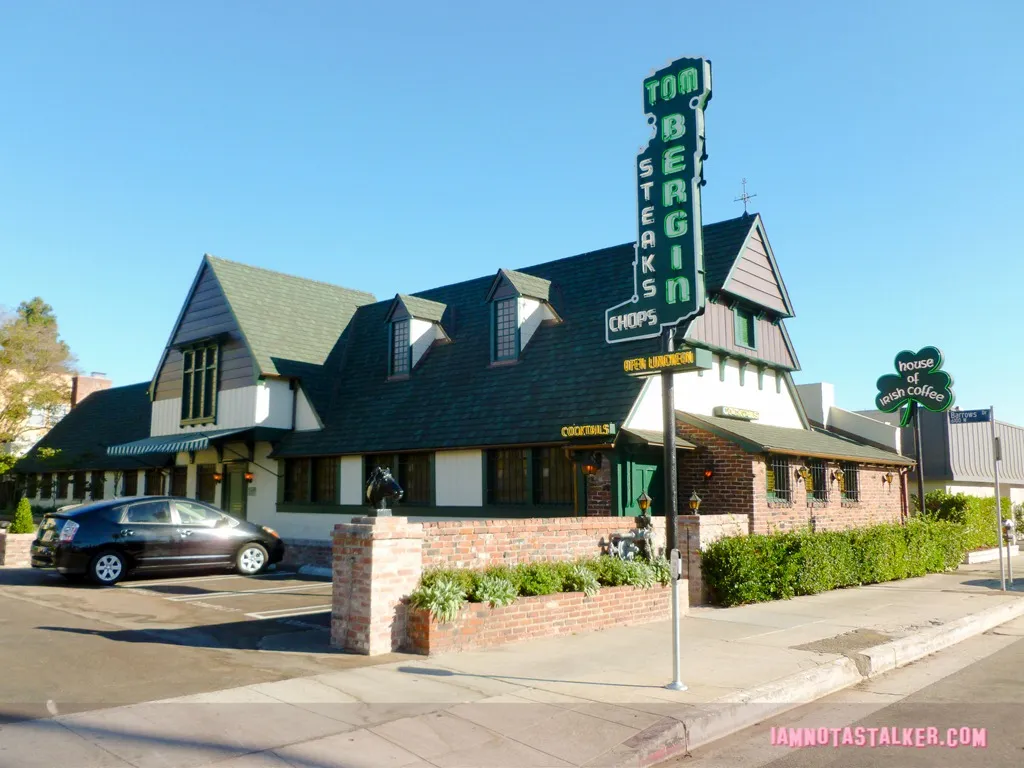 The oldest tavern in the city and home to the Irish Coffee. Bergin's has had a real horse in hits horseshoe-shaped bar and hosts comedy every Thursday. Mob bosses met with LAPD heads, Cary Grant had a favourite table in the corner, and there are a bunch of names you will know who have shamrocks on the ceiling.
Warning: rough, ugly dive bar crowd.
840 S Fairfax Ave, Los Angeles, CA 90036
https://www.tombergins.com/
The Troubadour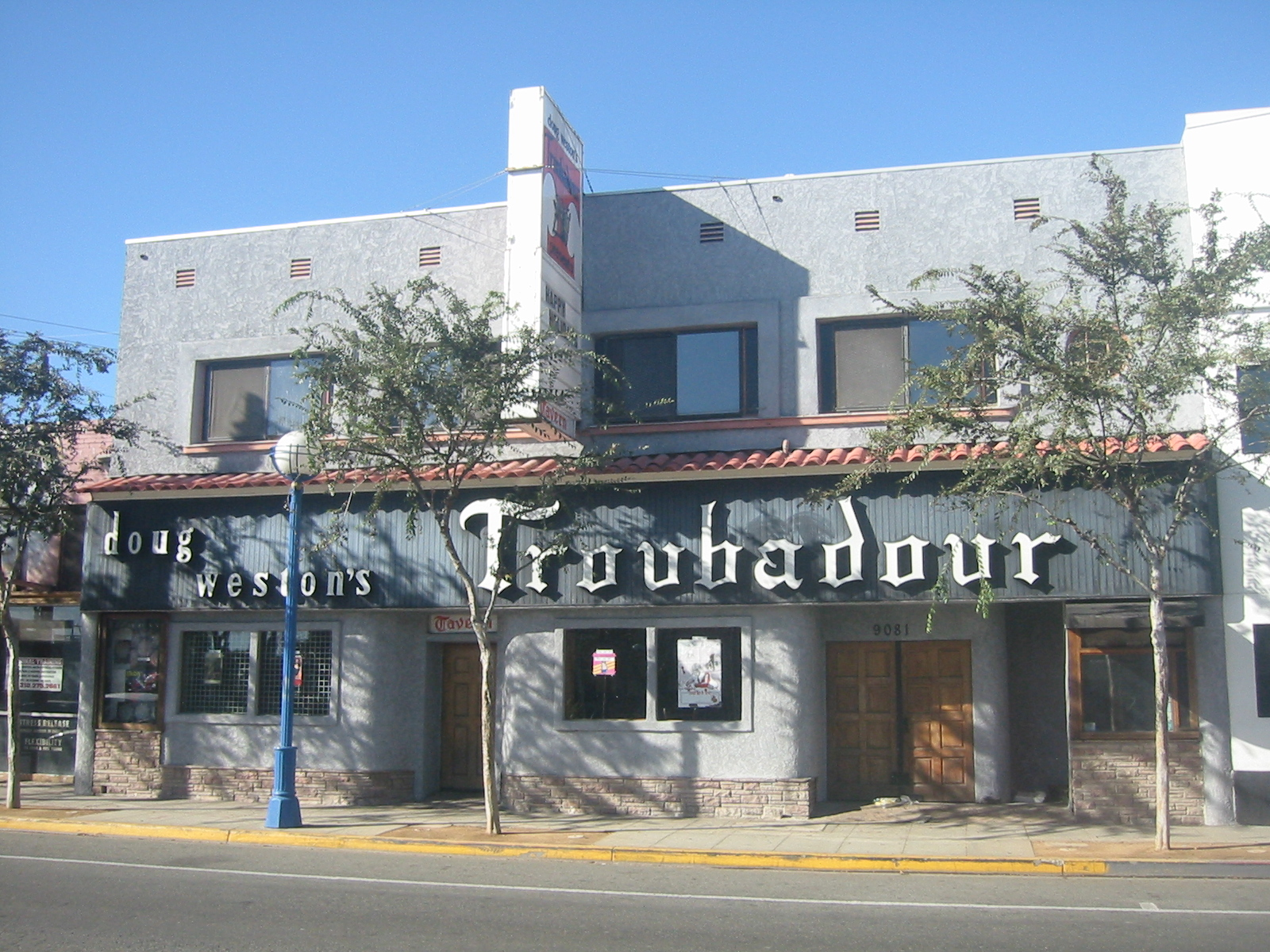 One man launched the careers of all the comedians and bands you know and love: Doug Weston. They all started here. Neil Diamond, Cheech & Chong, Steve Martin, Bad Religion, Cinderella, L.A. Guns, Motley Crue, Guns n Roses, Poison, Ratt, Warrant, Fiona Apple - this place was the engine for the music scene of the 70s-90s.
9081 N Santa Monica Blvd, West Hollywood, CA 90069
https://troubadour.com/
The Viper Room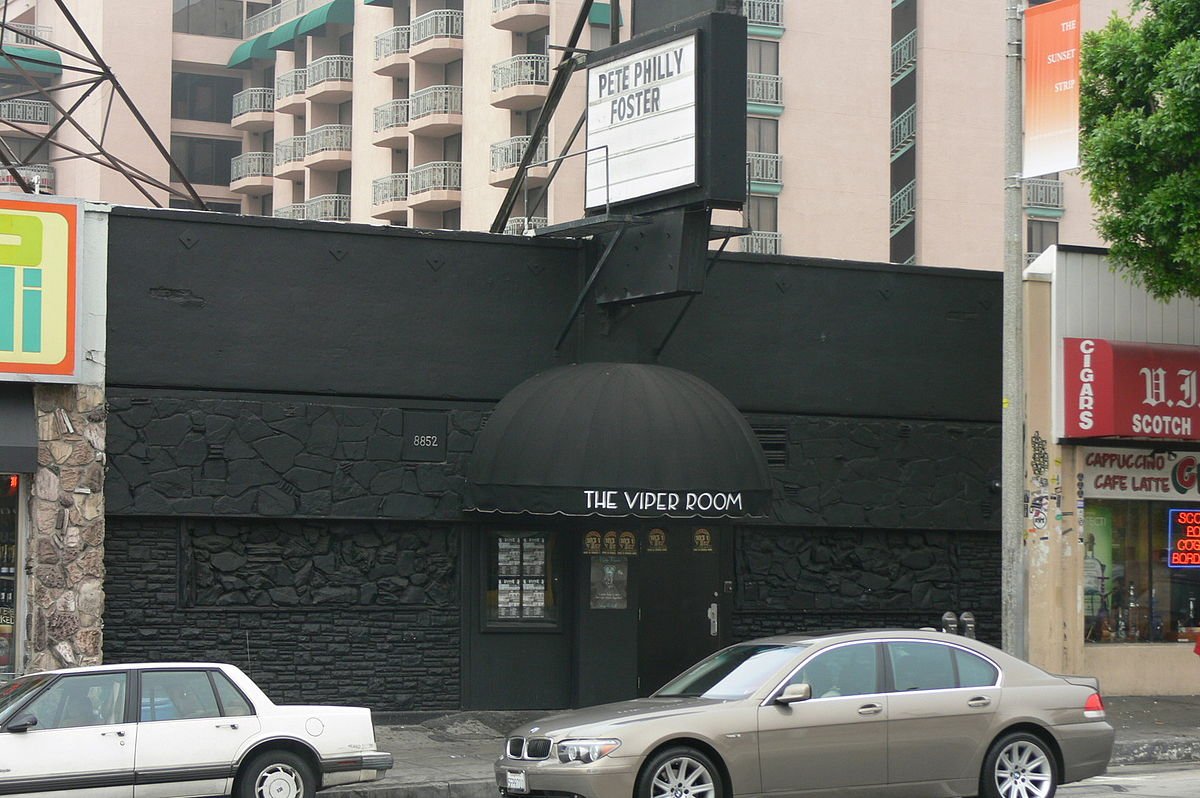 Johnny Depp and Sal Jenco's rock club opposite the Whiskey-a-go-go. River Phoenix died of an OD on the pavement in 1993. Jason Donovan OD'd inside in 1995. And Michael Hutchence played his last gig here in 1997. The basement was an underground celebrity poker ring documented in "Molly's Game".
8852 Sunset Blvd. at Laherty, West Hollywood, CA 90069
https://www.viperroom.com/
Vista Theatre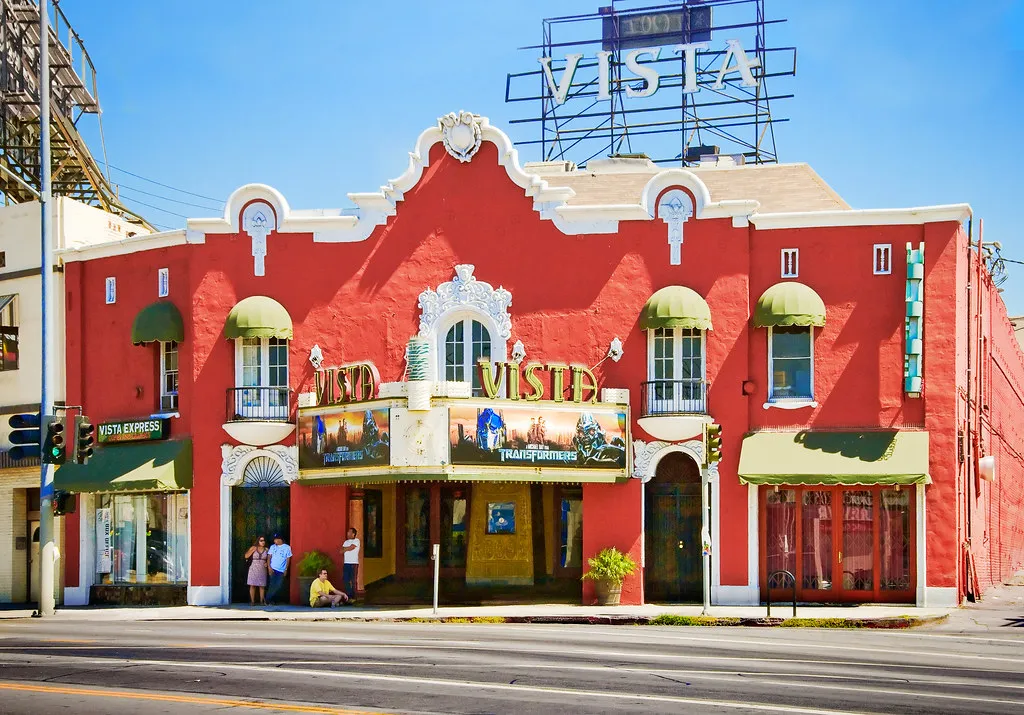 Tarantino bought it. It's from the 1920s, and used to be a porn cinema. Now, it's iconic.
4473 Sunset Dr, Los Angeles, CA 90027
http://www.vintagecinemas.com/vista/
Whiskey-a-go-go
The world's oldest and most famous rock club, founded in 1958 (although the Sunset location wasn't until 1964). The original rock n' roll venue. Every rock band ever has played it. Its name comes from Whisky Galore (a British novel), and the French "a gogo" ("in abundance").
8901 Sunset Blvd, West Hollywood, CA 90069
https://whiskyagogo.com/
If You Only Have A Weekend...
You could probably do most of the interesting stuff in LA in about 2 weeks. Which is the direct opposite to London, where that would only cover one street. LA is a sprawling museum. The buildings aren't what make it famous; it's the people.
An Old Hollywood Weekend
Stay: Roosevelt, Beverly Hills Hotel
Eat: Formosa, Canter's
Day: Biltmore,  El Royale, Paramount, Saban Theatre, Hollywood Sign, Warner Estate
Evening: Musso & Frank's, Matteo's
Finish: Frolic Room
A Contemporary Hollywood Weekend
Stay: Sunset Maruis, Beverly Hills Hotel
Eat: Sunset Strip
Day: Backstage Bar, Guitar Center, Peninsula, Paramount
Evening: Sunset Tower, Magic Castle, Viper Room
Finish: Jumbo's
A Rock n' Roll Weekend
Stay: Hyatt (Andaz), Sunset Marquis
Eat: Canter's, Mel's
Day: Sunset Sound, Guitar Center
Evening: Troubadour, Whiskey, Viper Room, Roxy
Finish: Rainbow Bar
A Weird Weekend
Stay: Peninsula
Eat: Mel's, Johnie's
Day: Scientology, Forever Cemetery, Richfield Gas Station, Museum of Death
Evening: Cielo Drive
Finish: Frolic Room