A Brit's Guide To Actually British Things In Los Angeles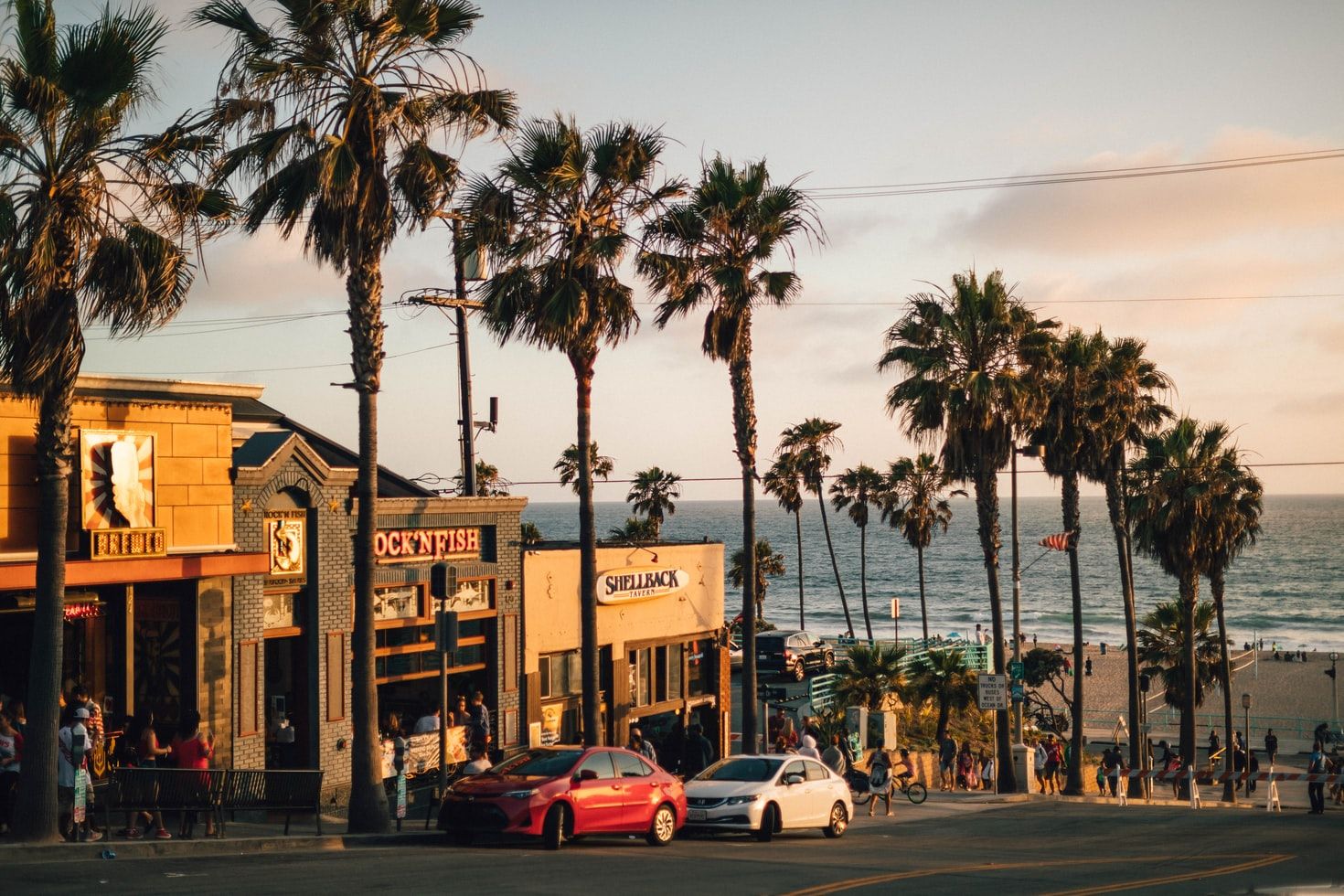 There are plenty of guides to British things in LA, but 99.9% of them are written by affected American transplants who are obsessed with Britishness despite never having visited the country. Or have visited London once. They are what these people think is British. Brit-ish you might say.
If you're a Brit and keen for a taste of Blighty to relieve the homesickness, you'll find yourself scratching your head wondering what on earth the place you're visiting has to do with the UK. However, if you live here, you end up discovering the authentic haunts out of necessity.
In 2010, the LA Times reported the British Consulate's estimate that there were 200,000 Brits here.
The Embassy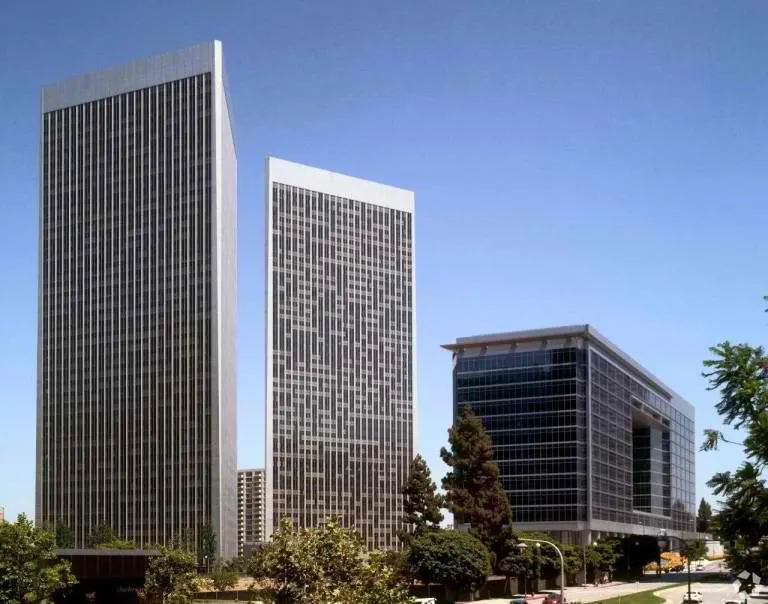 First things first, it's important to know the UK government has a presence in LA. It's not technically an embassy - rather a "Consulate General" - but it serves the same purpose and can help in case of problems like crime, health, lost passports, and so on.
Where: Century Park East & Constellation (Century City)
2029 Century Park E # 1350, Los Angeles, CA 90067
310-789-0031
The Newspaper
It's crap, but you know, it's nice to have something approaching a print edition to subscribe to. A glossy magazine would be better, but you work with what you have.
It's called the British Weekly: https://www.british-weekly.com/


Mostly 20 pages of notices, but it does have some useful ads for other British things. You can subscribe in print, or digitally. Here's an example: https://www.british-weekly.com/wp-content/uploads/2022/05/lrbw052822.pdf
It's like your traditional village paper. Crap, small, and quaint. You don't really care about it, but you'd miss it if it wasn't there.
The Pub
What we know as a "pub", Americans tend to refer as an "Irish bar", or occasionally, a "tavern". America's bars are categorised according to their social function. There's a date bar, a sports bar, the family restaurant, and of course, the dive bar. For us, there is merely The Pub. The community's living room.
A "British pub" in LA does not mean a tavern-like building with locals where people congregate socially after work. It means "has some British-like food on the menu and a Union Jack flag on the wall". The pub garden or pavement patio is an unknown concept here. If you want to let off steam you go to the gym or hiking.
You're not going to get a proper British pub in LA. But you can get something close to it if you know where to look. If you want an actual pub, you need to take the train down to Orange County (The Olde Ship, The Five Crowns) or San Diego (e.g. The Shakespeare, The Churchill) where they do it properly.
Likewise in San Francisco and Sacramento, but worse. Neither have any British pubs. Old Sac is charming though and has some Irish bars.
Beverly Hills does not have a British pub. If you're staying in fancyland, you're going to be disappointed. It's a bit like Sunningdale, Ascot, or Sandy Lane in Barbados: a picturesque place with not much really there.
Note: LA does not have any "central area" people gravitate to like other cities. There's no real "entertainment district", high street, or piazza strip with the Fright night carnival-type atmosphere. There's no Little Italy or cultural hubs.
Special Mention: The Five Crowns, Corona Del Mar
It's not in LA, but it's nearby, and it's the best British pub in the United States - by far. The Five Crowns building is 100 years old and used to be a coach house brothel. When it was established, there was nothing else in sight for miles. It's billed as "a charming replica of one of England's oldest country inns and a Corona del Mar landmark steakhouse."
The renovators apparently spent months driving around English pubs and taking notes, importing genuine items from the Motherland. It shows. It would beat most of the gastropubs you know.
Corona del Mar is slightly south of Newport Beach in Orange County. About an hour south of LA by car, and also accessible on the train if you take it to Irvine. It's worth it.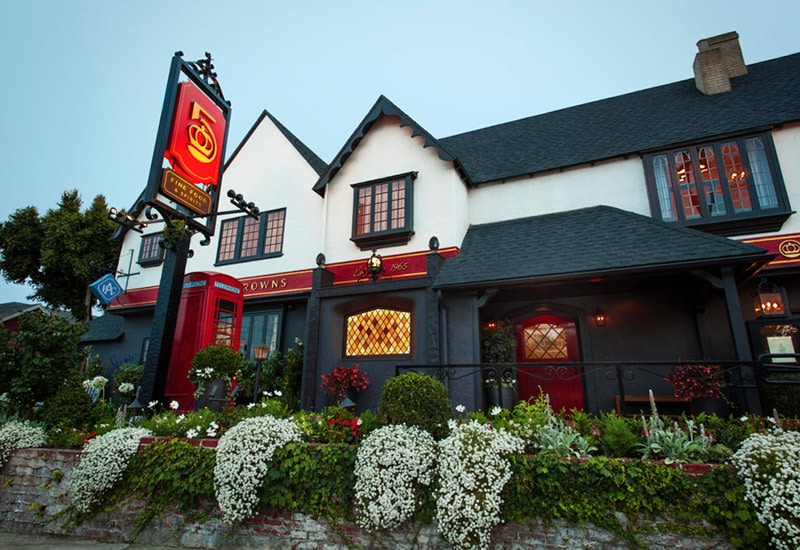 https://www.lawrysonline.com/five-crowns/
P.S. If you're doing a pub crawl, you could also try The Olde Ship on the way down (2 locations in Fullerton & Santa Ana): https://www.theoldeship.com/
P.P.S If you're driving down, go 15 mins further down to Laguna Beach first. Take in The Saloon, Marine Room Tavern, and Hennessey's Tavern beforehand as the sun sets.
P.P.P.S. For after dinner drinks in CDM, try The Quiet Woman: https://www.quietwoman.com/
The Chap, Hollywood
Short for "Chaplin", and of course, ahem... chap, this place opened in November 2022 just off Hollywood Boulevard. It's easily the best furnished and heavily renovated: tall ceiling, tall windows, swanky outdoor patio, private hire, you name it. The bar's small, and it's probably more like a snazzy London gastropub than a local boozer. That said, the area needed a proper pub. It's bourgeois as hell with the twatty crowd to match, but it's a good replacement for The Pikey (aka Coach & Horses).
Where: Hollywood & Cahuenga
Go for: swankiness
Good: Investment and outfitting
Bad: the trendy bourgeois crowd swarming it
The Cat & Fiddle, Hollywood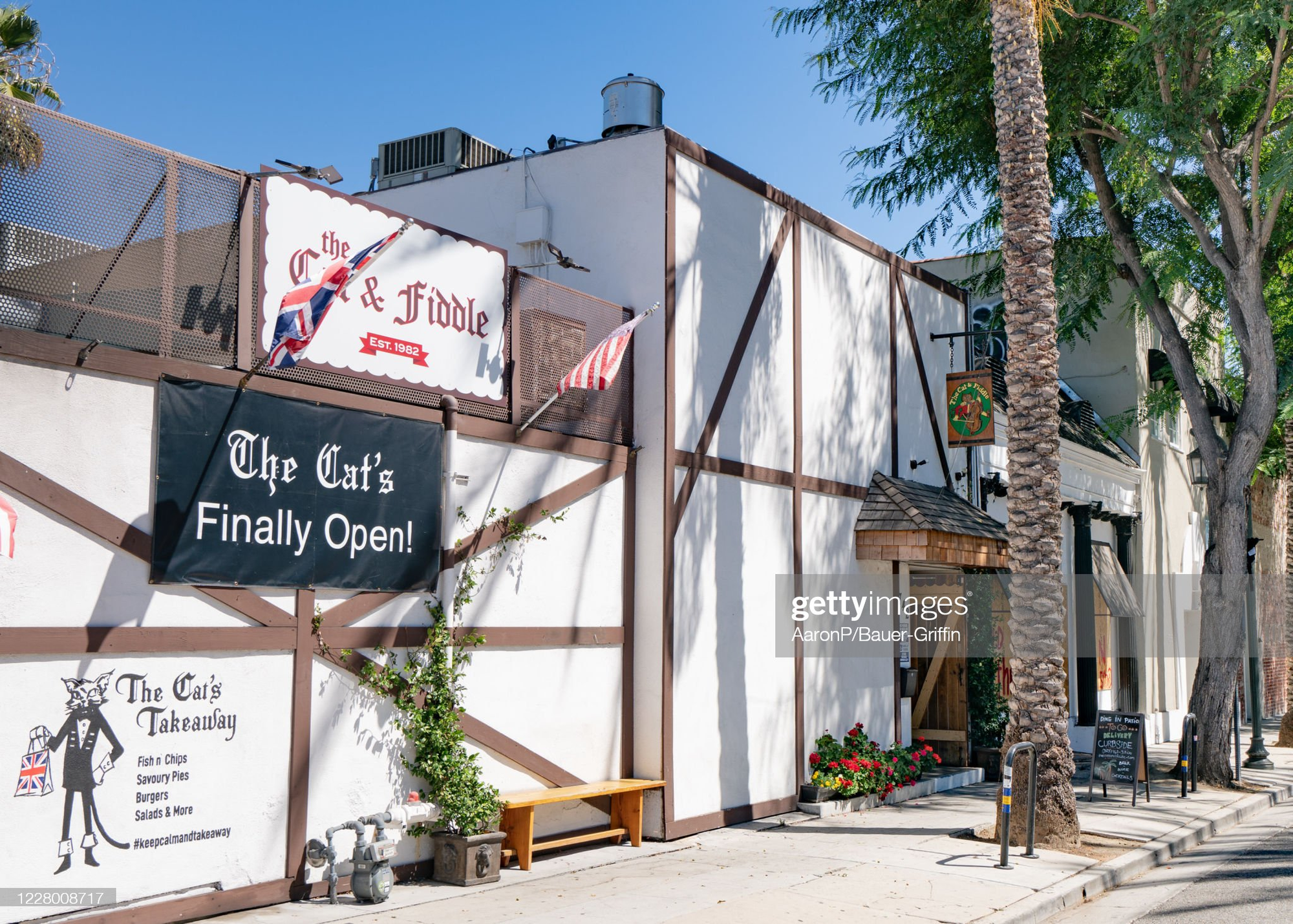 The Cat has the best British food in America, period. It's Sunday Roast is the finest in the new world, and bests most of England's pubs. Sceptical? You won't be. Although it's more like a gastro-bar, the atmosphere, history, food, and attitude make it the Queen of the city. The surrounding area of Larchmont is pure Yummy-Mummy-ville.
Where: Highland & Melrose
Go for: the food
Good: food, patio, staff
Bad: location, prices, lame pub atmosphere
Ye Old King's Head, Santa Monica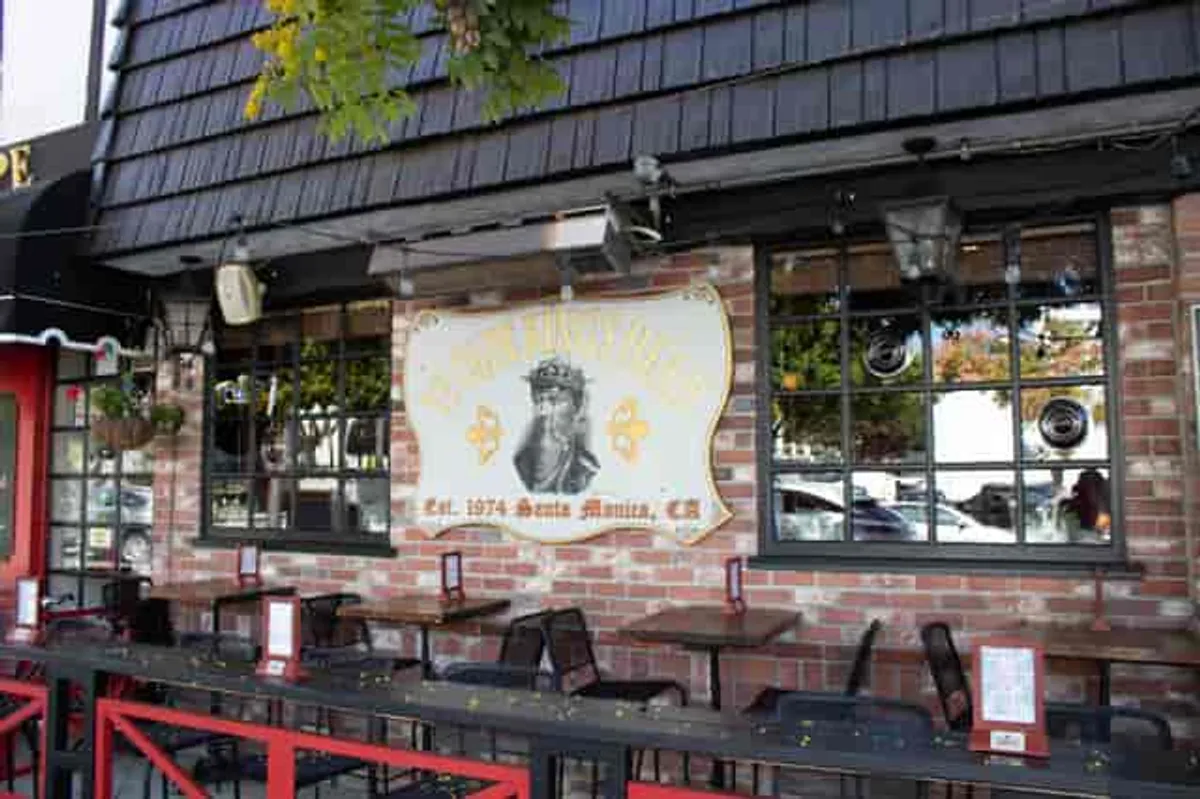 It's the original. And has a British shop attached to it. You'll think of it as a Middle England high street pub slightly over the Wetherspoons marker - which isn't great. The staff are nice, the food is reasonable, but it's busy at the normal times because of its spot next to the beach. Sticky floors, drunken patrons, and a good outside area for a cig and a pint after a day at the beach.
https://www.yeoldekingshead.com/
Where: Santa Monica & 2nd (Downtown SM)
Go for: the British shop, summer crowd
Good: authenticity, space, popularity
Bad: service, cleanliness, queues
The Fox & Hounds, Studio City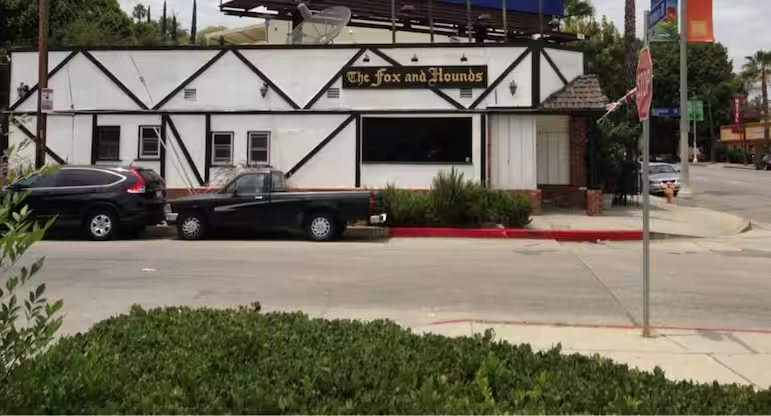 It's known as a sports bar, and it's definitely at the lower end of the scale. The food isn't great. There's a large outdoor marquee area which is kid friendly and it's perfect for watching a game with a lot of people. Inside, you're looking at the local 10am alcoholics' convention. But the area is peaceful and t's unpretentious. Not a place for a date unless they're already really drunk and you're looking for a last stop.
https://www.thefoxandhounds.net/
Where: Ventura & Fruitland
Go for: watching sports
Good: space
Bad: location, food, cleanliness
Tom Bergin's, Mid-City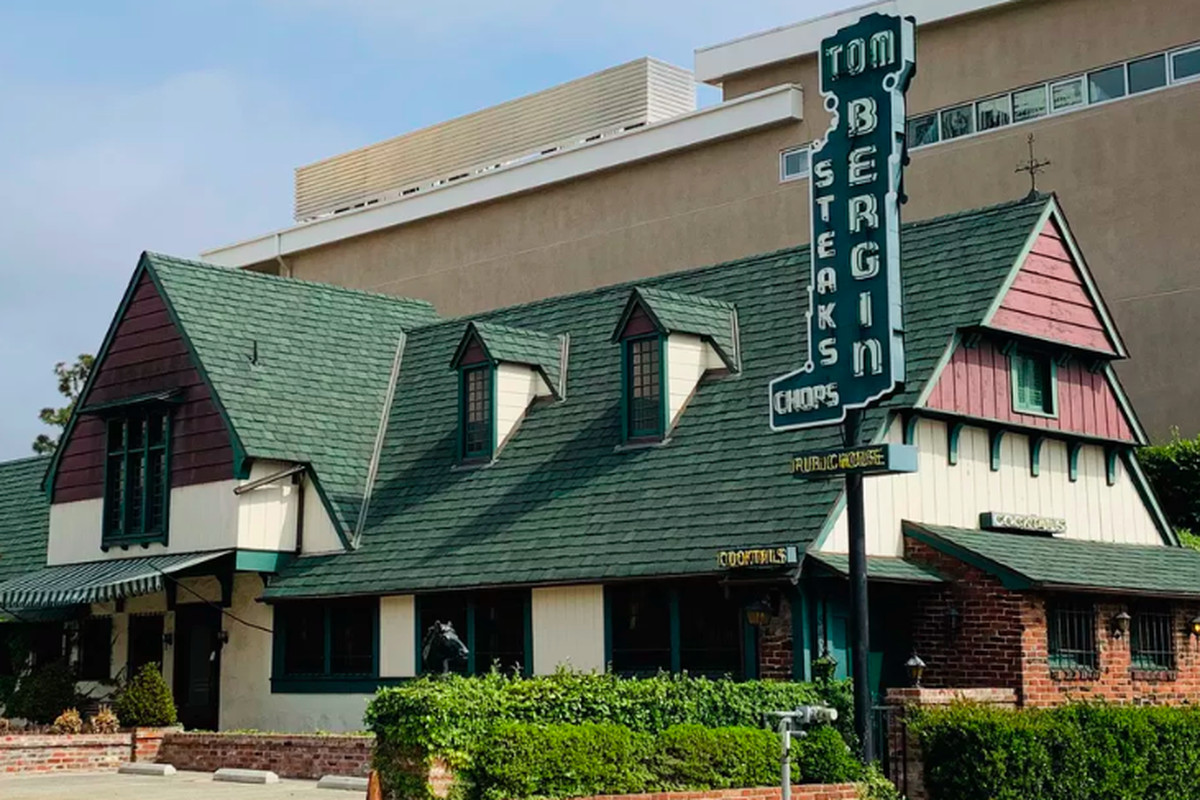 Home of the "friendly degenerates" and open til 1am Thurs - Sun. Tom's has a long, controversial history and isn't a British bar, but it's a pub you'll recognise as a pub: dark furniture; log fireplace; people too drunk for the time of day; eccentric characters on every table; hilarious staff and regulars. Not family friendly in the slightest, and be careful of some of the crowd: the bartenders are typically too drunk to serve by 10pm and there's been an uptick in violence. Some of the patrons veer across the line from eccentric to extremely disagreeable and strange.
Where: Wilshire & Fairfax (near the Car Museum)
Go for: comedy (Thurs), cheap late-night drinks
Good: hours, location, history
Bad: crowd, safety
The Stalking Horse, Culver City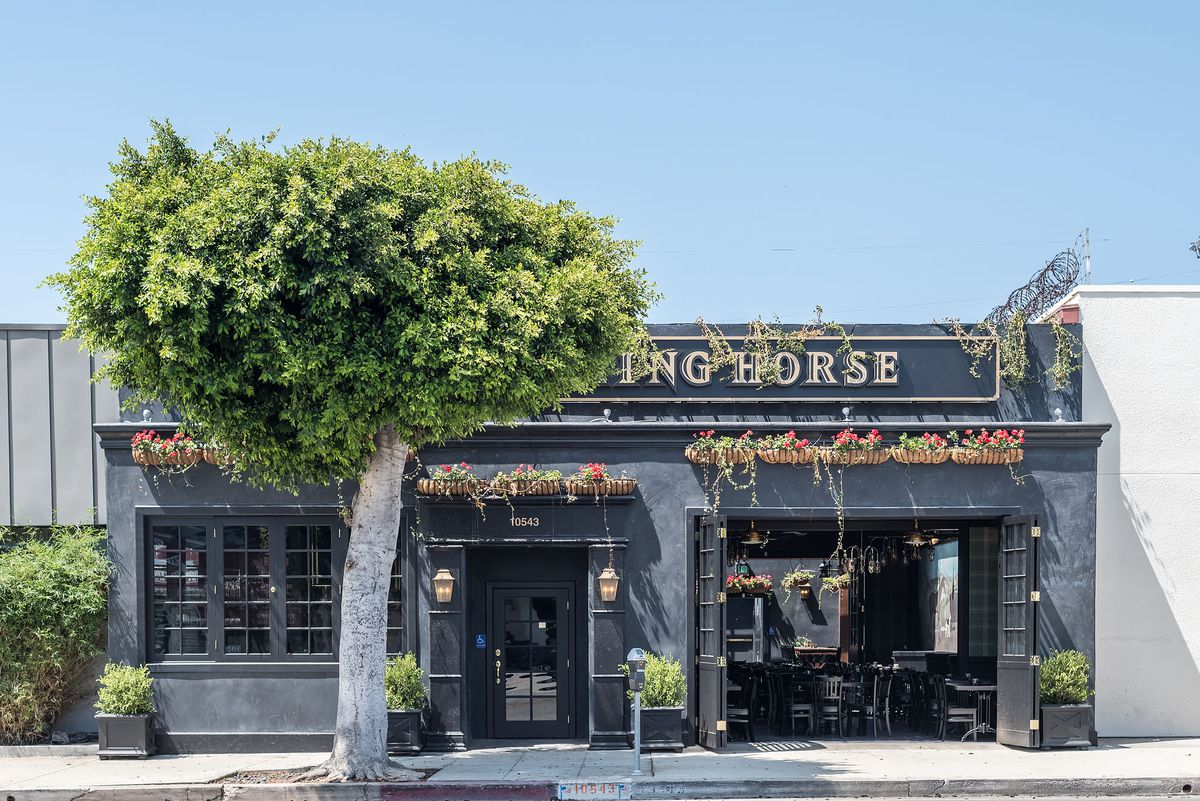 More a fashionable date venue, but it has a smallish Irish-style bar and large outdoor restaurant area. It closes early (10 or 11) and parking isn't easy. That said, the food is reasonable and it's a respectable place to grab a drink after work if you're employed at Fox, which is 100ft away.
https://www.thestalkinghorsepub.com/
Where: West Pico Blvd & Prosser (Near Fox)
Go for: the patio
Good: decor, food
Bad: location, hours, bar area
The Britannia, Santa Monica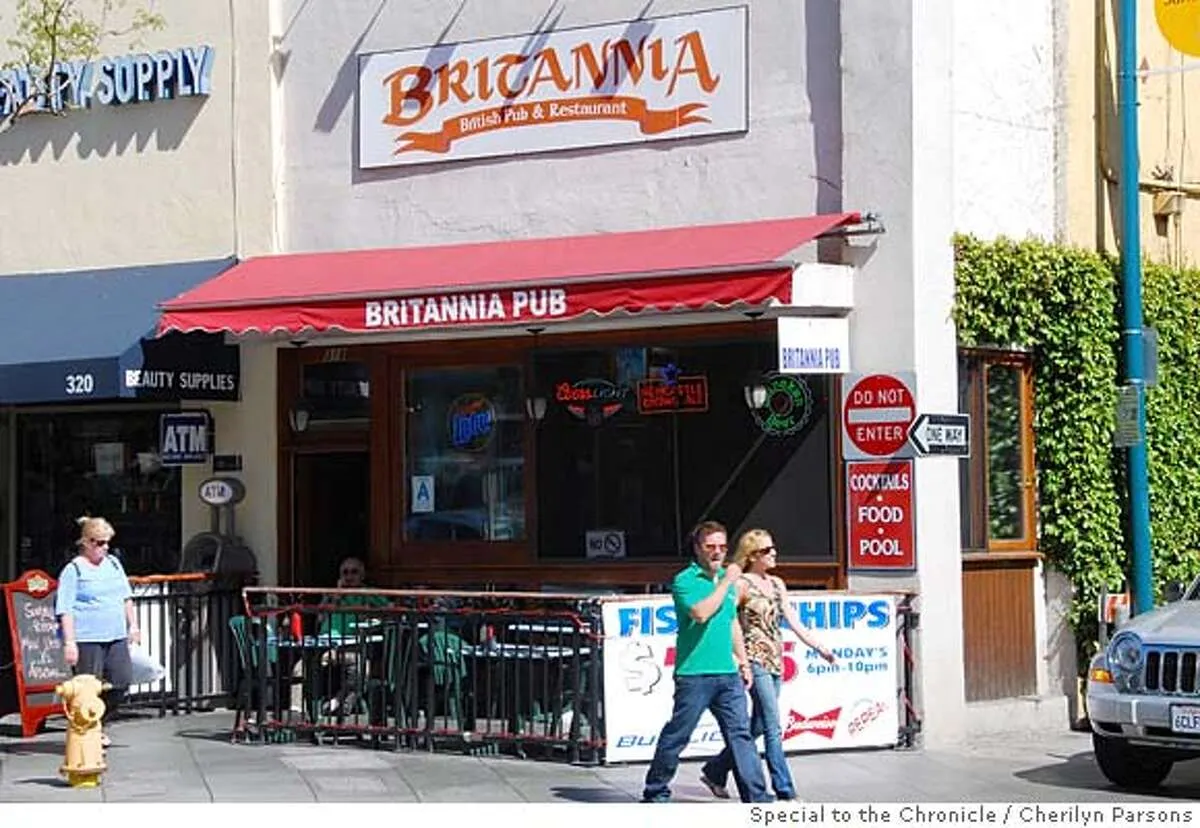 A neighbour to the King's Head, the Brit is it's baby cousin. Imagine a British beach bar in the south of Spain which caters to tourists with trinkets and gimmicks from the homeland you can slink into to wear off the sunburn, cramped in a tiny corner patio with anglophiles with printed fish n' chips.
Where: Santa Monica Blvd & 4th (Downtown SM)
Go for: the sunburnt banter
Good: crowd, authenticity
Bad: size, food
Robin Hood, Sherman Oaks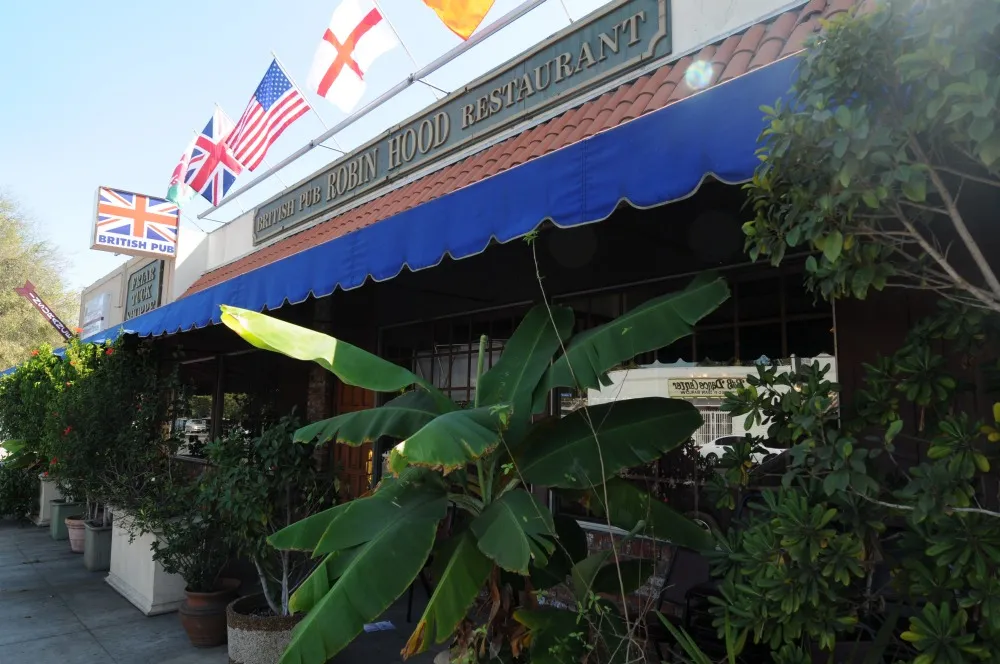 In the same vein as the Fox & Hounds, the Robin Hood is sat in a line of shops and appears dark from the front as it has its curtains drawn. But its interior will definitely convince you, after a few glasses, that you're back in Kent somewhere. The locals have been there forever, the decor is authentic, and it has a large marquee outdoor area for the kids. The feeling you get is it would be a great place if they put it in another building. Also has a British store attached.
http://www.robinhoodbritishpub.com/
Where: Burbank & Woodham
Go for: the British store, watching sports
Good: authenticity, space, food
Bad: lighting, decor, crowd
The Village Idiot, West Hollywood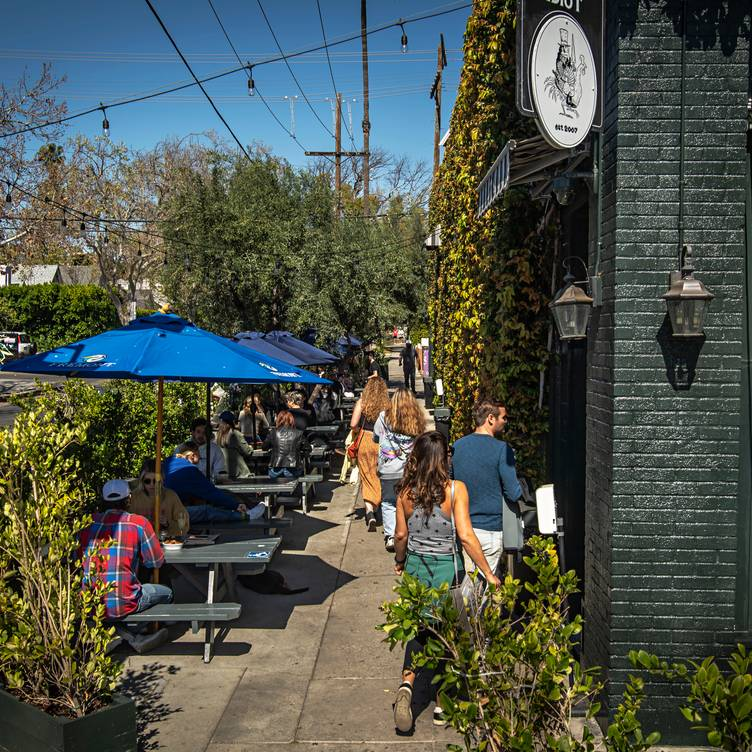 It'll be hard to recognise this place as British. Right in the middle of trendy Melrose, it's a high-ceiling gastro pub which is trading on sounding British. But it's an American bar with wooden garden seating around the edge and a very, very large kitchen serving pricey food. Honestly, it's got a British-sounding name, but it's indistinguishable from any other restaurant in West Hollywood.
https://www.villageidiotla.com/
Where: Melrose A& North Martel
Go for: the food
Good: style, location
Bad: authenticity, pricing
Market Tavern, Mid-City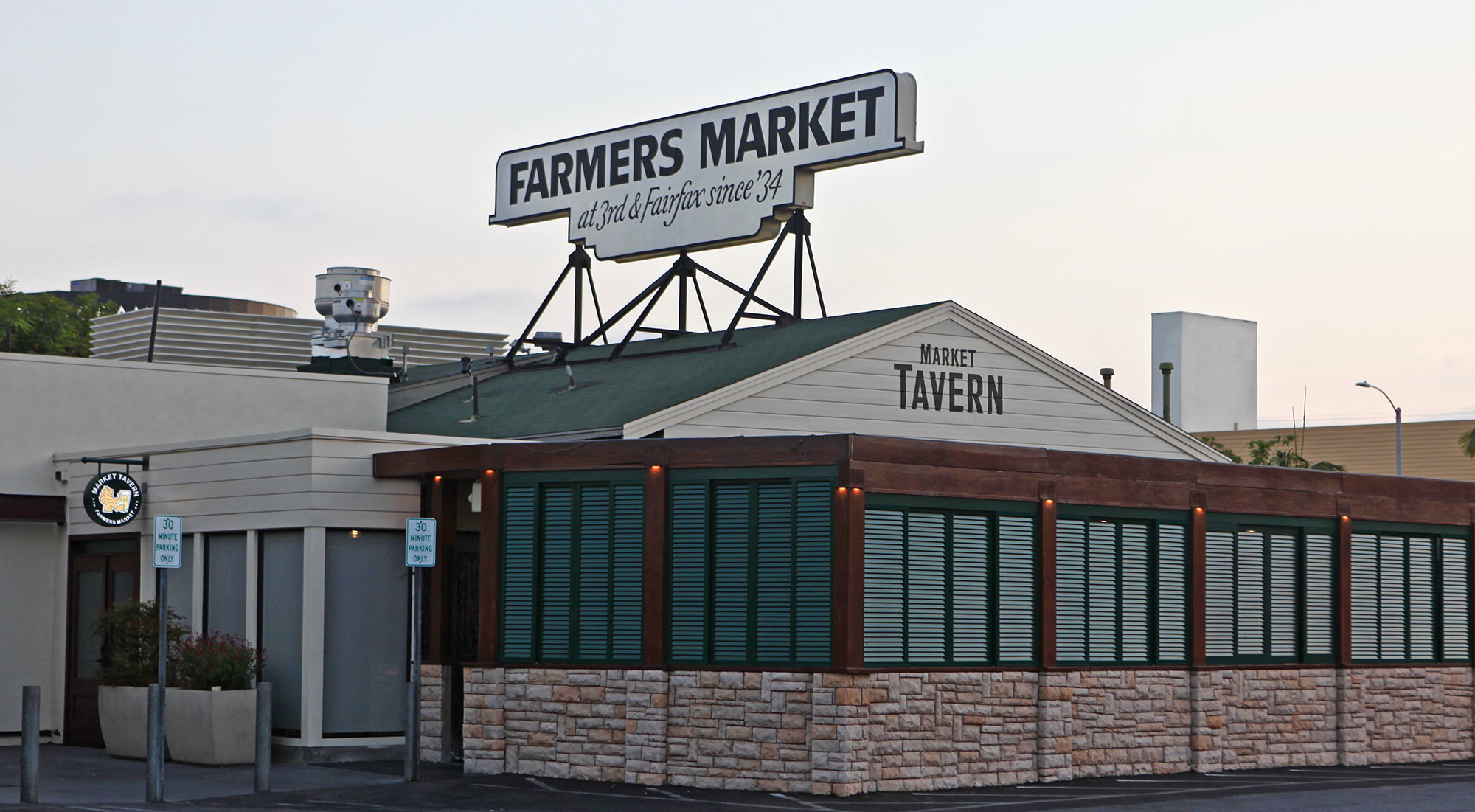 God knows what about this place is supposed to be British, but it's supposed to be. As a new entrant to the Farmers' Market, it sits in the corner opposite the WGA and was created by a British owner. Or something. It has a British flag on the roof. But other than that, it's a stamdard American restaurant with Guinness on tap and some British meals on the menu.
Where: Fairfax & West 3rd (Inside the Farmers' Market)
Go for: the food
Good: location, food, decor
Bad: authenticity
Short answers:
If you want food, go to the Cat & Fiddle;
If you want gritty authenticity, go to the Robin Hood;
If you want to watch the footie, go to the Fox & Hounds;
If you're on holiday, or want a small town  pub crawl, go to the Kings Head and Britannica.
If you just plan to get straight-up trashed, pick an Irish bar.
Groceries
Yes, you can go to Amazon, but it'll take you a while and cost a fortune. Friends can bring things over. Cadburys can be found everywhere. But soon, you're going to need baked beans, marmite, goose fat, jaffa cakes and all the eccentricities you're used to.
First stop, online. There are loads. Because it's the US, and it was the largest market in the British Empire.
Now, if you want to go in person, locally, it's a lot more sparse.
Ye Olde Shoppe & Bakery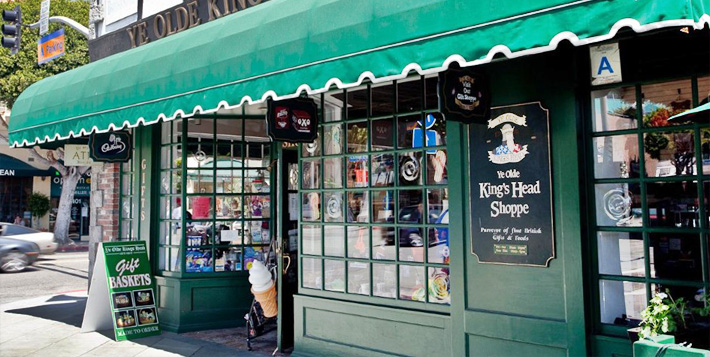 First stop. All the Brits live in Santa Monica. They have everything. Go here.
Attached to the King's Head, so it's an easy stop if you're there for lunch. Although it's mainly a tourist haven, you can find a tonne of useful things in there to remind you of home.
https://www.yeoldekingshead.com/gift-shoppe-and-bakery
Hare & The Hounds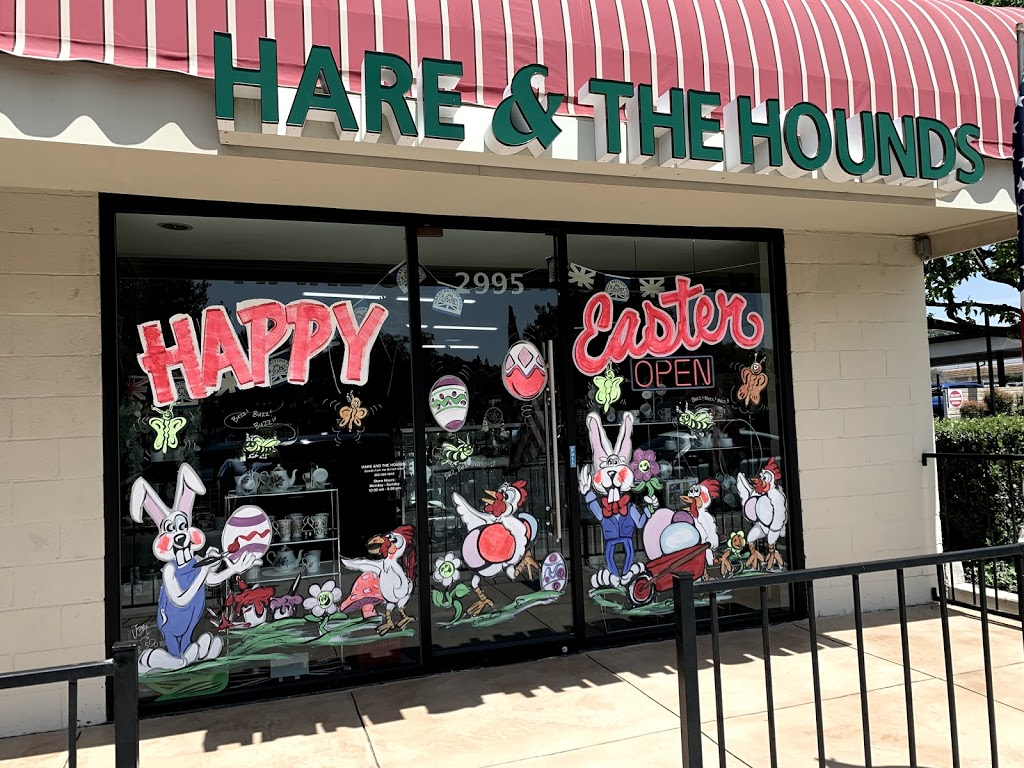 Legendary, and around for decades. the H&H is in Thousand Oaks and mainly stocks things like cakes, scones, and teas. It's a market-style grocery store in village style.
https://www.yelp.com/biz/hare-and-hounds-thousand-oaks
Where: Thousand Oaks (north of Malibu)
The British Grocer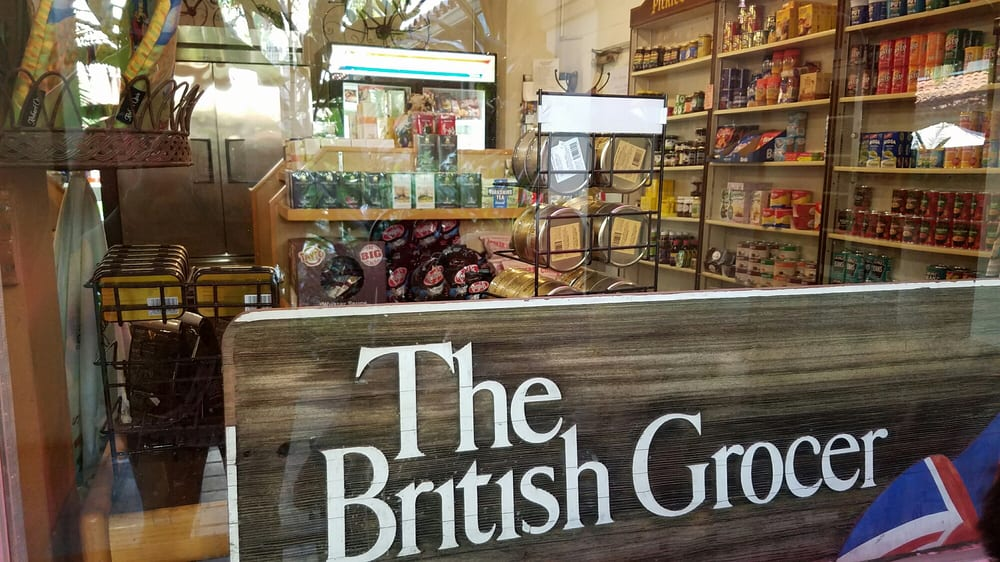 This one is always in British Weekly. Stashed away at the back of the Villa del Sol compound, It's a baby version of Harrods you could find in any English village. A little further out, but it has everything. Their website doesn't work. As you'd expect.
https://www.yelp.com/biz/the-british-grocer-fullerton
Where: Fullerton (north  of Anaheim)
British Wholesale Imports
Not a shop, but a useful family-run place to call for advice.
Where: Thousand Oaks (north of Malibu)
Sex, Drugs, & Rock n' Roll
Los Angeles was, of course, home to some seriously legendary rock and movie stars from the UK. And if you fancy a trip around to take in some history, here are a few good places to start.
"Tales from the Hollywood Raj: The British in California"
https://openlibrary.org/books/OL15008236M/Tales_from_the_Hollywood_Raj
Expat Groups
Brits are a strange species. We don't gather in cultural hub areas and spread out far and wide among the locals. We group in the typical places we find at home: pubs, sports teams, and the like. The same is true in LA, but it's far more spaced out because of LA's sprawling.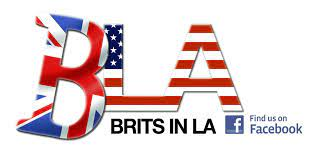 Brits In LA
BIL is the original expat group. It has a mailing list, meetups, a Facebook page, and more. Pub quiz every Tuesday at the Market Tavern (why???), and it's your first stop. Sign up for the mailing list and grab a pint to complain about everything, as we do.
Los Angeles Rugby Club
Yep, we have a rugby club which is premier league, founded in 1958. It's not a British-run thing, but it's a British sport. Great for kids.
Hollywood Cricket Club
Founded in 1932, this one served the Golden Age of stars like Cary Grant. Apparently attached to the SoCal Cricket Network, it's difficult to figure out where this one is located.
Soho House
It's achingly trendy and the place to see all the British movie stars. SH was created in... wait for it, London. It expanded over here a while ago and is the definite London private club venue. Situated in the penthouse of an office building on Sunset Boulevard, it's as group-think pretentious and sanctimonious as you'd expect. But if you're into that nonsense, you'll love it.
The Mayflower Club
It's an old British-American country club for jazz, dancing, eating and old boys spinning the night away. One of those old Hollywood leftovers where you pay your fees to play bridge and talk about the old days.
British Home in California
A special mention for the seniors. BHIC is an assisted living facility created in 1931 which specialises in a British environment and cultural setup. It hosts open days with afternoon tea and is an off-the-beaten track venue for some flavour of the motherland.
Where: Sierra Madre (eats of Pasadena)
What To Know If You're Moving, As A Brit
LA is very, very different to England. It's fun at first, but it starts to get to you. In the excitement it'll all seem rosy.
Los Angeles' main export is marketing a mirage in the desert. Remember that well.
LA, frankly, is aesthetically hideous. It's unbelievably ugly. 10% of it is interesting art deco with a Euro feel, and the rest is sprawling concrete facelessness. The poverty, crime, and homelessness are real. And growing. Wealthy people hire their own private security and move right out to the north-west suburban edges: Malibu, Bel Air, etc.
Until 1987, California was solid red right-wing Republican, like Texas. Hollywood was built by conservatives, as were companies like Hewlett-Packard. Nixon and Reagan were Californian. California was so right-wing it tried to ban pornography, gay marriage, affirmative action, minorities from country clubs, and even cheap motels. it made films like Top Gun and produced bans like Guns n' Roses. In the 90s the gang violence was so bad it needed an unprecedented crackdown.
Then came Prop 187, which tried to ban illegal immigrants from receiving government assistance. The very real demographic change caused the middle class to flee en masse, and the state flipped to 60% Democratic. Take an hour-long car drive south to Orange County and you'll understand the result by comparison. What's left is an ultra-wealthy snobbish elite in the north-west, and a massive, poverty-stricken underclass everywhere else. It's starting to look like Johannesburg.
It's so transient, the city has no culture of its own. There is no small town or "cosy" feel in any of the 88 cities. For that, you need to go out into the suburbs or more south (Orane Count, San Diego etc);
Films aren't shot here unless it's on a green screen sound stage. They are financed and cast here, and produced literally anywhere else to keep costs down: Vancouver, Atlanta, London.
Being so spread out doesn't seem bad at first, but you soon realise people don't bump into others. You could easily go fifty years here and not make any friends at all. Social life is all about activities. It's not spontaneous.
LA lacks all the things which bring people together in the UK (which are shared by English-influenced places on the east coast like NYC): community sports, neighbourhood pubs, markets, high streets, festivals, etc.
Crime is serious. As are the shanty towns. There is no being "sectioned" if you have mental health problems. The (armed) criminals here are extremely brash and aggressive, and the addicts/schizophrenics wander the sidewalks.  There is no concept of the British idea of "fairness" or "decorum". In the UK they wouldn't do it because it's not "proper". per se.
It's not uncommon to go on Nextdoor and see picture reports of people masturbating openly in public parks or outside schools.; or of homeless people shitting on parked cars in people's driveways.
If something happens, you have to pay for the ambulance ($700-ish), and the LAPD may keep you on hold for 30mins - if they answer. Home invasions, garden defecation, and doorstep pirating by the homeless are everyday events. You don't walk; you drive.
The public education system in California is a disaster. Private schools can be $15,000/term, so think carefully about kids.
The city has one international airport, when it needs at least four. LAX can be easy, or it can be a nightmare.
There's no pub crawl. Or rivers. Or street parties. Or multi-storey car parks. Or roundabouts. All solutions to obvious problems.
There is zero concept of objectivity when it comes to the news. We might have the lefty BBC, but here there are 5 wildly communist news networks and 1 hard-right outrage channel. All of whom brazenly lie without consequence and preach daily armageddon.
Dating is regarded almost universally as harder here than anywhere else in the US. People leaving after a year; little spontaneity; vain or agenda-driven people. It's not where you'd find people wanting to start a family and settle down.
There is real racial animus. In the UK we live and let live. You really can find yourself on the wrong end of things if you say skin colour doesn't matter. It's not uncommon to hear of antisemitic attacks or verbal abuse shouted at white people.
Finding an apartment here is not easy. There are no homogeneously-planned areas with a certain style. Every house on a road is wildly different.
The studios aren't in the main cities (with the exception of Paramount). They moved to the suburban areas. What's left behind is a husk.
The "Upright Citizens Brigade" of England is alive and well in Beverly Hills. It's lawns and estates will remind you of the home counties.
Church isn't the value system of community life, and neither are the values of the CoE. Most of them are Instagram preachers. The religion of California is Gnosticism.
Most Brits live in Santa Monica.
The bottom line, if you're moving here, is this: LA is a small group of ultra-wealthy people in the north-west living in mansions away from the rest of the population, because it's a city set up to cater to celebrity privacy needs. The rest of it is a 70s-era residential zone which has degenerated into a dangerous, violent, run-down shantytown with no real semblance of civility between its concrete blocks. The Brits who live here mainly have been seconded for work in the entertainment industry, and most of them are found in the smaller-town-feel world of Santa Monica near the beach where it seems like being on holiday in Majorca.
As a Brit, it's hard to build a life here. In New York, it's easy. In any other town, you're a curiosity. So it's imperative to make sure you have a social circle you can connect into, because it absolutely will not form spontaneously as it would elsewhere. In fact, it will probably never happen. You have to create it.
A cautionary tale from an old  friend of the author, who was a heavily-tattooed, cheerful fellow with an Afghan wife insistent on moving to be nearer work opportunities in make-up and wardrobe. When asked if he liked the city:
"No, I f**king hate it. Can't wait to get out of here and get home. She won't leave because of work, but we've been here four years and only met about four people. Couldn't even find a proper pub. It's a horrible place."
Or consider another anecdote from the author, concerning a New York Times bestselling writer friend with a career credit list running into the hundreds, who got back from a meeting at Fox to say this:
"I've got a resume. I've had bestsellers. I've worked on hundreds of projects and been recognised for the long nights i put in. I walk in there as someone from New York, and they just look you like you're a piece of s**t."
And a final one, from a well-respected production coordinator who recently got a $7k/month gig in the Netflix writing room after 12 years of working 18hrs/day to feed his two kids:
"Dude you just wouldn't even believe it. Everyone in there is the same person. They all think the same things and the same way. It's a bunch of hyper-political graduates who think they're the s**t. I had to go through a whole reporgramming course of communist crap before i was even allowed to contribute anything. To make sure i am rehearsed in the groupthink."
If you've got money, you've got the means to find a nice place to live, hire private security, the means to take holidays, and a nice school for your kids. Maybe even build a pub. And there will be "friends" to help you spend it. If you make less than $10k/month between you and don't know anyone, it's a very rough ride.
The romantic days of LA died in the 1990s and the city rides on the fumes of its flailing mythology. It's a nice museum to visit, and a quaint retirement home for Boomers and GenX-ers.
Think long and hard: do you need to live here to email someone a PDF? Could you visit for a week or rent for 6 months? When everyone is working remotely? Do you really want a $2M mortgage on a mediocre apartment you need to put cameras around?
And that's the moral of the story: when your city earns its name as a home for the transient rich and famous, what happens it never finds a way to bring people together in an identity and culture of their own.
So when you arrive, make sure you know where yours lives.